"Alaska: The Last Frontier" is very loved by the audience, in fact, the way Kilcher family lives outside of Homer, Alaska with no modern tools, surviving harsh winter is very appealing to the fans. In this article, we are covering a particular Kilcher, Atz Lee Kilcher,40, who is the son of one of the main cast of series Atz Kilcher and Leandra Carroll.
Atz Lee who calls himself a "Black Sheep" in the family is a married man and has two children. His wife is  Jane Kilcher who also features in the series. Most people find it interesting when they know famous Grammy-winning singer/songwriter Jewel Kilcher is from this Alaskan family. Yeah, the same Jewel is Atz Lee sister. His other two siblings are Nikos Kilcher and Shane Kilcher. We will bring you all the interesting information on Atz Lee in a wiki-like-bio beginning with his net worth.
Atz Lee Kilcher Net Worth
Net Worth: $2M
Atz Lee Kilcher has a net worth over $2M. A Large chunk of his earning is from discovery TV series "Alaska: The Last Frontier". Music runs in the Kilcher family and Atz Lee is no exception to that. He is good at performing at stages despite he chooses to live in wilderness supplying meat needs of the family. There is not much earning for him in Alaska. However, he is blessed with the inherited family property. Kilcher family owns 613 Acres of land in the greater Homer area. According to local records, they can lay claim to a further 207 acres in and around the city. The total value of the family's real estate holdings is approximate $3.6M in which homestead accounts just over $800,000.
Despite the divorce rumors Atz Lee Kilcher happily married to wife, Jane Kilcher
For those who have been watching "Alaska: The Last Frontier" needn't an introduction to Atz Lee wife Jane Kilcher. She is a commercial fisherman who met Atz Lee some years early in  2000's. It's the year 2005 when the pair got married. For any family person, having children is true bliss. So do Atz Lee Kilcher and Jane, the pair is blessed with a son, Etienne Kilcher and a daughter, Piper Kilcher.

Caption: Fishy women with a big catch seems like her husband will be away from hunting for a while
The pair holds a wonderful relationship. Despite the very fact, there were long standing rumors questioning mutual love between the pair. Even the rumors reached the point of divorce.
Let's have a look at views from "TLF" fans who have their own verdict regarding the relationship between the couple.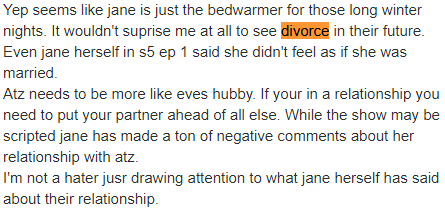 Amid the rumor, the Jane was quick to falsify any faint hope surrounding their split. Further, she is well familiar with the harsh comment on her and family as she came up with a long Facebook post clarifying the situation. Also, she made it known how much she loves her husband.
"It's terrible to be judged when you are a part of a family show where so much love and accomplishment happens …no one in our family deserves the hate and ugly comments… we are a beautiful family that works hard, we share our lives as honestly as possible considering it's still a tv show… AND if you think I'm a whiner… guess what… I've got way more whining coming … and if you think my husband is a whiner you are just dead wrong … Please watch with an open mind and know I am in love with someone that blows me away … at least weekly 
❤ lol"
Atz Lee himself also posted in social media showing love for his wife Cristian Jane Kilcher.
The pair is pretty in love still after more than 12 years of marriage. So, it's unlikely seeing this couple getting divorced anytime soon.
What is the Reason for keeping Children away from the Limelight?
TLF has gone rise and rise since it began airing on discovery TV channel in 2011. Its sixth season was the Discovery TV series having the highest weekly rating only behind a few shows like Gold Rush. No wonder series casts are gaining more popularity than ever. However, that doesn't seem appealing for Atz Lee and his wife to bring their children on the show.  What might be the reason for keeping son, Etienne Kilcher and a daughter, Piper Kilcher off the Lime Light? Well, It's solely due to personal and privacy reason. Loving mother wants to keep her children away from internet trolls which she thinks would be too much for her children. As for her daughter Piper she doesn't want to be on TV. Maybe she could change her perception in future. Etienne has started featuring with rare appearances in the series.
Jane Kilcher described the situation in her Facebook post as below.

When it comes to children, it is obvious parents are protective. Atz Lee and Jane has every right to keep their children away from the limelight.
 Atz Lee Kilcher Injury Setback
Life will always throw good and bad things but the individual should be well aware to cope with the situation. Atz Lee Kilcher has to go through some tough times. He was terribly injured due to a fall while hiking in August of 2015. He has to go through multiple injuries including a broken arm, a broken shoulder, broken ankle, a broken hip, crushed ribs and two punctured lungs.  At times it looked as his television career is over. Well not, within a year he recovered from the terrible accident. Here is the injury report from the man himself.
Short Wiki Like Bio on Atz Lee Kilcher with age, height
Atz Lee Kilcher was born on August 26, 1977, in Homer, Alaska to Father Atz Kilcher and mother Leandra Carroll. He is an actor and reality TV show personality. According to birth date, he is 40 years of age now. He stands with a height of 5ft10in (177cm). Nikos Kilcher, Shane Kilcher, and Jewel Kilcher are his siblings.
By: Gerrardhayley