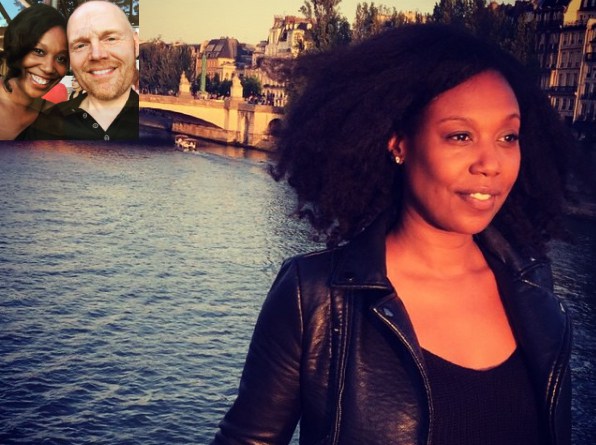 Nia Renee Hill is an American actress and filmmaker. She is able to mark her presence in the entertainment industry with bold beauty and some notable performance. However, the reason for her fame is mostly credit to her husband. She is the wife of stand-up comedian and actor Bill Burr.  Before we bring more information a quick introduction of her husband.
Bill Burr is a no-nonsense comic man. He is known for his work as a standup comedian and actor. He has four stand-up comedy specials on Netflix. His work with Netflix includes "Let It Go" (2010), "You People Are All The Same" (2012), "I'm Sorry You Feel That Way"(2014) and "Walk Your Way Out"(2017). Burr hosts his own podcast also he co-created Netflix show, F Is For Family.
Nia Renne Hill past dating affairs and boyfriend
If we talk about Nia's love life she has a long list of dating affairs with men. Her dating timeline unfolds relationship with men of different ethnicity and colors. She hasn't been particularly about the person but has shared dating Black, White (Irish, German, Italian), Jewish, Latino, and various combinations of all of the above during her college years in Boston and later.
Caption: Nia Renne Hill dressed up for her boyfriend Halloween party during her college years in 1999
Regardless of mostly failed relationship in past, she didn't get bitter or jaded. She even calls herself proud for having not so great relationship which she wrote in a blog article.
After going through several relationships she finally met Bill Burr, now husband. At the time Hill was working for a comedy show in New York. The couple hit it off and later they moved in together. When Burr career flourished the two moved to Los Angles.
Her married life and husband Bill Burr
Nia is blissfully married(2013) to Bill Burr and she even shares a best friend relationship with him. But this is not the first time she got married. She was previously married to another man of whom nothing is known.

Caption: Nia Renee and her husband Bill Burr
Photo Source: Zimbio
Nia faced her parent's divorce during childhood and her first marriage isn't an exception to the case. Her first marital commitment didn't last long which she wrote in an article.
"My parents are divorced and while they would both go on to have successful relationships with other people, my first example of marital commitment was that it didn't last."
Later she met Bill Burr. Like a responsible partner, he supported Nia from the very early days of the affair. Helped her careerwise as well as financially when she was jobless. The pair got engaged before taking the wedding vow in 2013.  Nia gave birth to a baby daughter in 2017 making Bill a father.
Her education and Career
Nia received her early education in Atlanta where she studied in a Catholic School. She moved to Boston for her Bachelor of studies where she attended Emerson College. She graduated in 2000 with Bachelor of Art taking media arts as major. After graduation, she took courses in fashion styling and acting in Los Angeles.
Nia is an actress and filmmaker. She served as creative director of Tenderheaded Films. Her notable movies and TV series appearances include  "Santa Clarita Diet" (2017), "Divorce: A Love Story(2013)" and "Did You Look for Work This Week?" (2012). Also, she usually appears as a guest on Monday Morning podcast which her husband runs.
How Old is Nia Renne Hill? Know her age and early life
Nia Renne Hill was born on  June 2, 1978, in Los Angeles California. As of now, she is 39 years of age. Her father worked as comedy manager. Nia's parents were divorced during her childhood and she lived with her mother and stepfather. She would visit her father during summers.
Nia Renee Hill Wiki
Name: Nia Renee Hill
Birth date: June 2, 1978
Age: 39
Birth Place: Los Angles, California
Nationality: American
Spouse: Bill Burr
Profession: Actress
Education: Bachelor Of Arts
Children: 1
Association: Tenderheaded Film
Twitter: Nia Renée Hill
Instagram: niasalterego
Linkedin: Nia Renee Hill
Bio Timeline
1978, June 2: Nia Renee Hill was born
1996: Joined Emerson College for her bachelor education
2000: Graduated with degree in Bachelor of Arts taking media arts as major
2013: Married to comedian and actor Bill Burr
2017: Gave Birth to first child, daughter with Bill Burr
By:Gerrardhayley