We have seen a good looking and bold Christian Navarro as Tony Padilla in Tv series 13 reasons why. We love him.  In fact, we love all the casts from the series with Brandon Larracuente playing the role of Jeff Atkins, and most  lovable and favorite characters, Hannah Baker played by Katherine Langford and  Dylan Minnette playing Clay Jenssen,  as they seem perfect version of any Teen.
Besides Navarro hit role in TV series, who is he in real life, are the gay speculation surrounding him are true? Let's have a look at personal details on his life like dating, girlfriend and more.
Christian Navarro has love affair rubbishing gay rumor
It is or has been a modern trend, any actors portraying gay in screen are considered or speculated gay in real life to. This is certainly a case with Navarro.
Well, twenty-five years old Christian is safe from all those rumors as he seems to be dating a girl. He is handsome and talented, no wonder many would fall for him. Actually, he has someone in his life who could be his girlfriend.
Christian Navarro is believed to be dating a  mysterious lady named Shazi Raja, who is originally from Pakistan. They have been together for a year.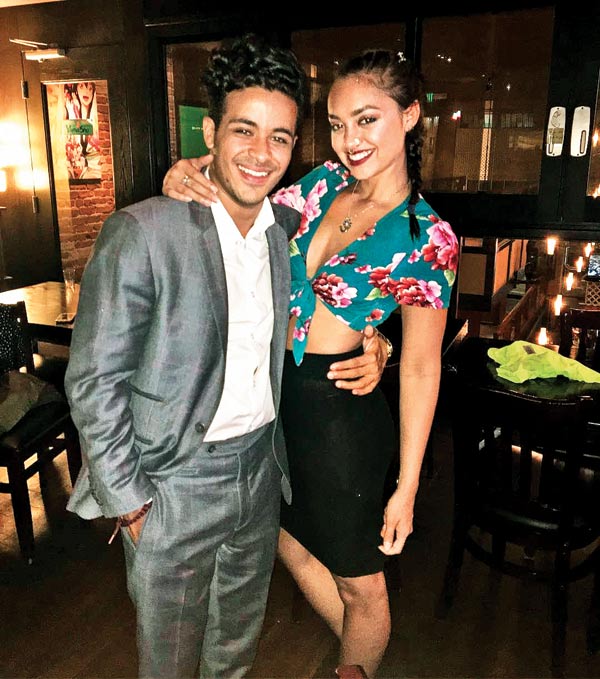 Caption: Christian Navarro with date Shazi Raja
Photo Source: dnaindia.com
Christian Navarro ready for a new girlfriend
In an interview, Christian cleared all the speculation surrounding his relationship. He referred hi girlfriend as ex so, he is on-the-market for next adventure in his book of relationship as he is not dating anyone.
"I'm single! [My ex-girlfriend] and I separated a few months ago, and I'm single and doing my thing."
Christian Navarro has two celebrity crush and he seems to quite interested in one of them. He wouldn't mind starting a relationship right now as he gave special indication to the girl. While talking about celebrity crush, Christian Navarro talked as:
 "I have two. Paige VanZant. I'm a big mixed martial artist my whole life, and I'm a big fan of mixed martial arts. Paige is absolutely my celebrity crush. But I was sitting 20 feet away from Hailee Steinfeld, and she got on that stage and she looked phenomenal. Hailee, if you're watching, you look phenomenal. You are my celebrity crush!"
Caption: Christian Navarro Talks about Selena Gomez produced show 13 reasons why along with his personal life
Christian Navarro has love for ink as he is not afraid to paint body with Tattoos. He has total of three Tatoos. Though exact number is not revealed yet.
https://www.instagram.com/p/tfU1Iyl4HR/
https://www.instagram.com/p/BQIf5sSDvC-/
Short Bio on Christian Navarro
Born on August 21, 1991, Christian Lee Navarro is from Bronx, New York. He is 25 years of age now with a height of five feet seven inch(1.7m). He has a sister named Caitlin Lee Navarro.
Besides his breakthrough role in 13 Reasons Why he was worked in other TV series and movies too. His works in movies include Day of the Dead 2: Contagium(2005), Run It (2009) where he played the role of John White, Bushwick(2017) and he is currently working on upcoming project  Can you forgive me?Christian Navarro work on Tv series includes  The Affair(2014),  The Tick(2016), Vinyl (2016) .
Christian Navarro is in vital stage of acting profession and we will be seeing a lot of Navarro in future. Navarro seems to make eye catching salary from his profession. Christian Navarro hasn't revealed his net worth yet.