While Actress, Gospel singer and former beauty queen Rebecca King-Crews get attention for her professional life her reputation proceeds as the wife of comic actor and former NFL player Terry Crews.  She served as the executive producer and cast of reality Tv series "Family Crews" which also features her husband and five kids. Rebecca has shown her mettle in songwriting and singing through hit single "Can I stay," which she produced too. This multi-talented person is a musician as well; she can play keyboard, covering piano and strings.
Rebecca is a firm believer in Christianity and a pastor of the religion. While she is a speaker and lecturer on youth, family, and fame she gives her insight and humor with the dose of her religious faith. She is a minister and encourager within the Christian community.
Rebecca King-Crews wiki/biography/age
Rebecca King-Crews was born on December 24, 1965, in Benton Harbor, Michigan, United States to interracial parents. Her upbringing in a Christian Afro-American family turned her into a religious person. She grew up in the areas of Gray Indiana where she had her schooling. From early years she turned to music learning piano and voice, as well as the musical theatre production. Rebecca graduated from Lew Wallace High School as a batch topper. By the time she got out, she had appeared in few musical acts with the musical theater production. Before Rebeca had joined college, she was crowned as Miss Gray, Indiana in 1984.

Caption: Rebecca King-Crews as Miss Gary 1984 at Miss Indiana Pageant in Michigan City
She followed her musical instinct and joined musical theater during her college years at Western Michigan University. She found herself increasingly involved in various plays and musical theater production at the regional level. She performed for many theater production acts including "The Whiz," "Pippin," "Evita," "Oklahoma," "The Music Man" during her college and high school.
Rebecca King Crew career and net worth
Rebecca is mostly known for her hit reality TV series "Family Crews" which premiered on Bet network in 2010  and lasted two seasons. With no explanation, the show ended in 2011. She served as the executive producer of the show through her production company "Crew Arts Ltd". Other than that Rebecca has mostly appeared briefly or as a guest in more than dozens of TV shows including Life After(2013), Masterchef(2016), Extra(2017), The Mo'Nique Show(2010 – 2011), E! True Hollywood Story(2009).
She also has featured in many fashion magazines which include "Today's Black Woman", "Heart and Soul", "Jet," "Television Guide" and "Reality Magazine". She serves as Ceo, President and Executive producer of Honey bear music from May of 2013. Her musical career is represented by her song Can I stay released in 2014.
Since Rebecca is involved in the production of music and TV series, also enjoys a satisfactory career in acting and music she must have generated a handsome earning over the years. While her income and net worth is not revealed her husband Terry Crews has about $20M.
Rebecca King-Crews Husband/Kids/family
Rebecca got married to Terry Crews on 29th July 1990. They both attended same college WMU where Terry Crews was a football star. Following the marriage, Mr. Crews was picked in the 11th round of NFL Draft 1991. Though the couple has been together their marriage hasn't been a straight one. Rebecca suffered infidelity and porn addiction of her husband. Despite the hard time she put up, they even went through 90 days of sex fest which helped recover their relationship.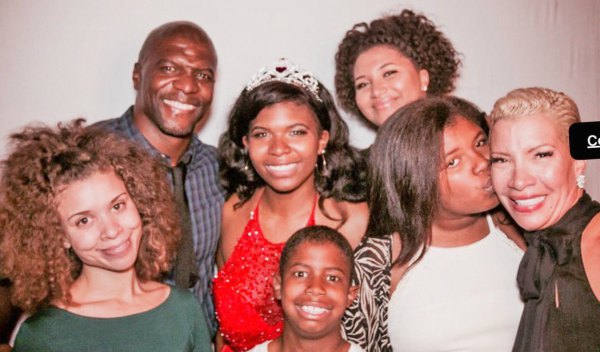 Caption: Rebecca King-Crews husband Terry Crews and kids
Source: Rebecca King crews twitter
Like most of the hard time, Rebecca openly supported her husband allegation against sexual assault from Hollywood agent Adam Venit. He was allegedly groped at a party in 2016 by Adam Venit. After the allegation, the agent was briefly suspended for a month.
Rebecca and Terry have five kids; four daughters and a son. Naomi, Azriel, Tera, Wynfrey Crews are their four daughters and  Isaiah Crews is the only son between them.