We are used to loving characters from our favorite TV shows or Movies as they portray perfect version of person that we could imagine. Actually, we have a crush on them as they are so cool, perfect and lovable in every aspect. But what if they turn out otherwise in real life.
Well, I am talking about actor Matt Bomer. He is good, ok! quite good in his line of work. He is a perfect guy in  every aspect as many girls would develop crush and fall for him.But, it turns out those curious and loving fans have a bitter pill to swallow. Unlike the con artist, he played along with  Willie Garson in TV series White Collar, he might not have the same taste in girls regarding his personal life. Well, truth is, He is a gay and already married to his famous Publicist husband Simon Halls.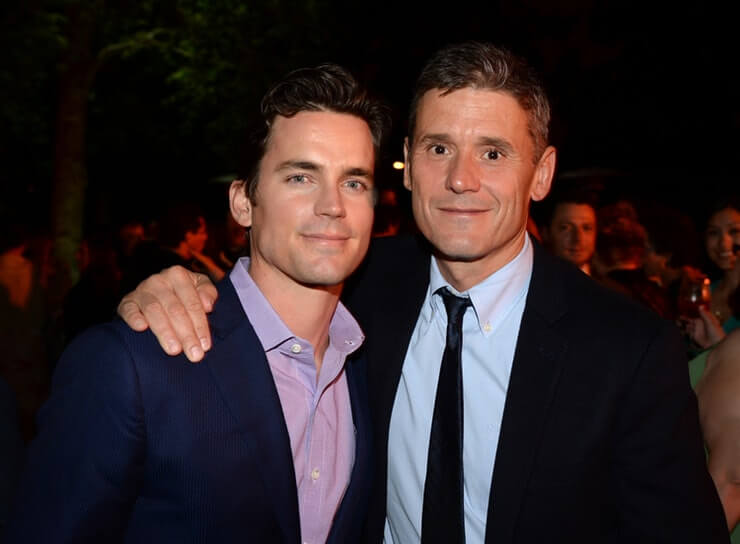 Image Source: Bustle.com
Simon Halls and Matt Bomer share special relationship as they have happy married life along with beautiful children. So get to know more about their relationship along with details on his spouse Simon Halls.
Matt Bomer and Simon Halls were already married when he came out as a  gay
As being a family person it must have been hard on Bomer to hide details to his family. Bomer came out as gay on February of 2012 when he gave speech after receiving an award in Palma Spring. Though he didn't talk about his sexuality, he gave special shout out to his family which includes Simon Halls and his three Children.
"I'd really especially like to thank my beautiful family: Simon, Kit, Walker, Henry," 
Matt Bomer was not always a gay. He had his encounter with girls and he was in a romantic relationship when he was 14. While talking to Details magazine:
"I was in romantic relationships with girls—whatever that means at 14. And it completely rocked my world…It's just an amazing call to arms."
Only a few knew about Simon Halls and Bomer marriage as they tied the knot in 2011 .While talking to out magazine, Simon opened about what it's like to be wedded and what it meant to him:
"It was very small — only our nearest and dearest. There's a security, a validity of knowing that it's legal. It's hard to put into words. It's just a feeling, I guess — something about saying vows in front the people around you who love and support you. I think it was good for our family."
Happy family of five
What it's like to have children in family, Well, ask Simon and Matt about that.  They have three beautiful children; Kit Halls, Henry and Walker halls are twin brother. Although occupied with tight schedule and work Matt and Simon seems to find lot of time for their children.
Caption: Simon Halls and Matt Bomer with Kit, Walker, and Henry
Source: Pinterest
As much they love children, Simon and Matt knows how to utilize their spare time by supporting and helping the organization that works for social good.
Caption: Matt Bomer with ice bucket challenge needing help from his children
Simon Halls wiki like Bio
Simon Hall was born on January 12, 1964. He is 53 years of age with American nationality. Simon is behind the scene man in Hollywood. He is quite famous publicist as he is among the top in Hollywood. Simon  co-founded Huvane Baum Halls which  merged with PMK in 2001.
Simon is an impressive professional who has been praised for his outstanding work. He earns an impressive money through involvement in different projects that would make him an exquisite net worth. As for his partner Matt, he has an impressive networth of $9M.