We envy the life celebrity live; they are famous, they seem to get what they want, moreover big bucks they earn. It's really cool, right? But we are not alone here to envy, If you are looking for a partner then you have Steve Harvey to accompany you. One after another and again he has been going through tumultuous time. Though this is not a movie starring Jim Carrey,  Steve Harvey seems to be living 'A Series of Unfortunate Events' in real life.
Miss Universe Calamity
Everybody would be familiar with this infamous incident by Steve Harvey. While announcing the winner of the Miss Universe competition, Steve Harvey  mistakenly crowned  Miss Colombia, Ariadna Gutierrez-Arévalo, as the winner of the 2015 beauty pageant. Actually it was Miss Philippines Pia Wurtzbach the rightful queen. See for yourself:
Although Harvey was quick to apologize, world don't seem to forget. In fact Harvey should have given his own twitter Emoji for the act as it caused social media to flood and it became an internet trend. Well, we don't have to remind Harvey, it still would hunt him as a nightmare.
It ain't over for ex-wife Mary Lee Harvey as she demands $60 M
Well it's been more than 10 years when Steve Harvey split with his second wife Mary Lee Harvey. To be exact, it was 2005 when the divorce finalized. We thought the estranged couple has come to peace with each other, but now ex-wife don't seem to  get over with Steve. In fact she demands $60M from Steve for the rough time and emotional stress she has been through. According to docs statement  ex-wife Mary states her post divorce trauma as:
"Mary's still feeling a slew of ill-effects from their battle. She says she's been suicidal and self-medicates to cope with their nasty breakup."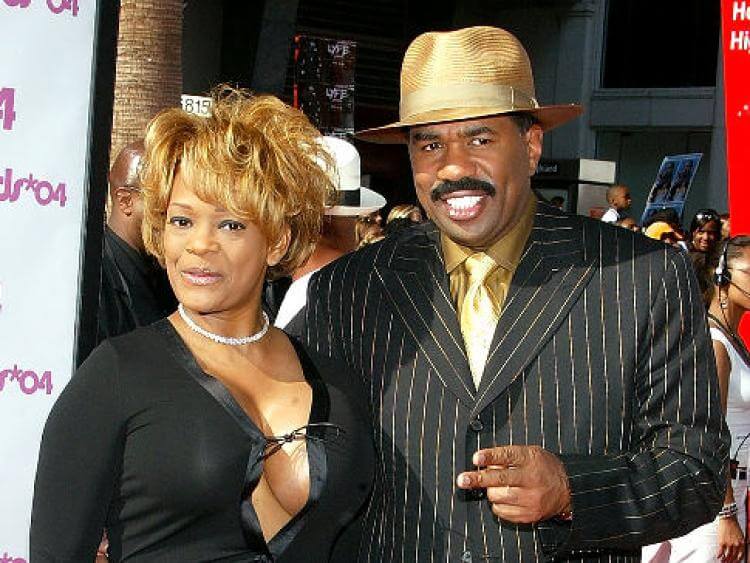 Caption: Steve Harvey and his estranged wife Mary Lee Harvey
Photo Source: Nydailynews
Well, timing couldn't have been any worse for Steve, Could he have got $60 M for miss announcing 'Miss Universe 2015' winner?
Now apology for the whole city
Steve Harvey don't seem to keep anything inside his mouth, our comedian can bring joke out of serious stuffs effortlessly. After Cleveland Cavaliers loss against Golden State Warriors in the NBA finals,  a basketball fan called   Harvey's radio show to discuss NBA Finals and the person is  residence of flint. Well, the fan didn't left the chance to slate Steve Harvey as he is Cavaliers fan and obviously Lebron James fan. The fan began as:
"I said the Cleveland Cavaliers didn't deserve to win and LeBron James was overrated"
But, it didn't go well with Harvey as he came up with another infamous joke.
"Where you from? Flint?,Enjoy your brown cup of water."
In fact, joke seems more offensive than funny now. In 2014 Flint resident were exposed to elevated lead levels in tainted water which killed 12 people and the lead crisis caused illness among several of resident. Now, Flint mayor and civil rights groups are demanding apology from Steve Harvey.
Only thing, Steve Harvey seems to enjoying is his married life with  wife Marjorie Bridges Wood. Steve really happy to forget his professional life as he is quite content  alongside his diva in France.
https://www.instagram.com/p/BW6HJPdgFd8/?taken-by=iamsteveharveytv