No wonder, Alexis Knief is a Lucky woman who is blessed with a wonderful 26 years of conjugal life with her actor husband Timothy Olyphant. More wonderful fact about Alexis life is she is married to her college sweetheart and shares three beautiful children with him. Well, the pair holds a relationship to envy. Let's get a closer look at their relationship, married life and their family of five.
Timothy Olyphant and his wife Alexis Knief
Long lasting relationship is not made out of thin air, it needs a perfect partner who is ready to go side by side through all the circumstances. Timothy Olyphant ,cool, villainous actor we know now wasn't always famous. In fact, he was an athlete, a swimmer, during his college days.

Caption: Timothy Olyphant and his wife Alexis Knife attending Golden Globe Award ceremony in 2017
Photo Source: Zimbio
When Timothy met Alexis, there was a spark between the pair. It didn't take long for the pair to change first meeting into dating and then love affair. Eventually, Olyphant and Alexis got married in July of 1991.
Married life between the pair has been as fruitful as their love affair. 26 years of married life is a long time and still the relationship between pair isn't fazed at all. They are loving and supportive couple, further, they are evident attending together major red carpet events. During Q&A Olyphant opened how he has managed to keep his relationship for so long. As he answered;
Everybody knows Olyphant is a hilarious and a funny person but few are familiar with Alexis. Well, Alexis is nothing different from her husband as she posses similar aura.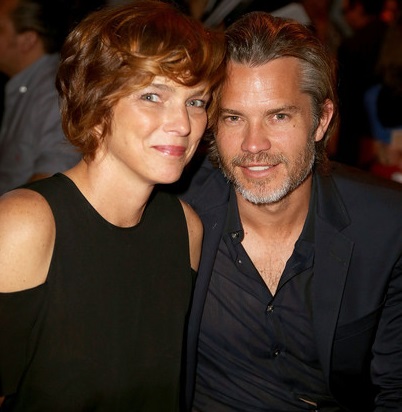 Photo Source: Zimbio
She and her husband prepared a humorous speech for 2011 Emmy Award as Timothy was nominated for 'Outstanding Lead Actor In A Drama Series'. Well, Timothy didn't get honour to speak as he lost to Kyle Chandler.
Later, during appearance in Conan O'Brien show Timothy talked how he would have began the speech.
Timothy Olyphant has been a faithful and loving husband to wife Alexis and the pair are happily living together as family with three beautiful children. So, there isn't a single hint of pair getting divorced anytime soon.
Olyphant family has two beautiful daughter and a son; Timothy finds it hard to impress his children
Alexis Olyphant and Timothy were blessed when they welcomed their first child, daughter Grace in 1999. The pair welcomed two more children, son Henry in 2001 and younger daughter  Vivian in 2003.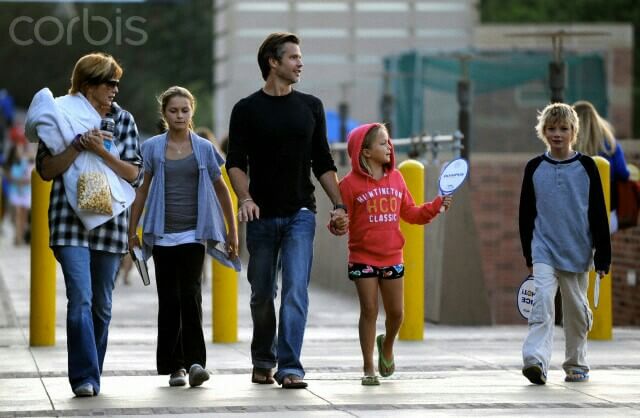 Cation: (L-R) Alexis, Grace, Timothy, Vivian and Henry Olyphant
Photo Source: Pinterest
Timothy is a loving father who loves to talk about his children as it is evident in many of his interview. There are times when he has to stay away from children and he misses them so much. While chatting with People, He talked about his frustration  being away from his kids which he told by displaying his usual sense of humor:
Timothy is used to portraying cool characters in Movies and TV shows and he is quite good at it. But for his children they are hard to convince. Back then when they were kids and now they have grown up and still Timothy find hard to impress them which he opened during talk with Ellen in 'The Ellen DeGeneres Show'.
Wiki like Bio on Alexis Knief
She is an American citizen born to parents of white ethnicity. She is famous for being Mrs Olyphant as she has actor husband Timothy Olyphant. Despite recognition, there is little information on her bio details like her birth date, age, height or weight. Alexis got married to Timothy in July of 1991 which is a year later Timothy graduated from University of Southern California holding a degree in fine arts.
Timothy persuaded acting career after the marriage with Alexis. Likewise, Alexis basic details there is no information on her earning or net worth. As for her husband Timothy, he is an actor and a producer.He has worked in Movies and TV series like Hitman, Rango, Justified. Timothy makes an impressive earning through his profession which eventually makes a net worth around $20 M.