CJ McCreery is the vocalist of the band Lorna Shore, or rather, he was. This famous death metal band was rising quickly to the top in the metal music world. But the departure of their previous vocalist Tom Barber halted their progress. In such a situation, the vocalist that joined was CJ McCreery after Tom left the band in April 2018.
But Lorna Shore is once again left without a vocalist as CJ was kicked from the band. Following various allegations of sexual and emotional abuse, racism, and child pornography. However, a lot of people who are not intp heavy music will have no idea about this incident.
So, to know more about CJ McCreery, who is at the center of this debacle, read on.
Who is CJ McCreery?
CJ is a metal song vocalist, and till just recently, he was the lead vocalist in the band called Lorna Shor. Born as Casey McCreery, CJ is currently 24 years old. He was born on 21st February of 1995 in Pittsburgh, Pensylvania.
There has been no mention of his parents anywhere on social media or the internet. Nothing is known about his family if he has any siblings or not.
McCreery graduated from a local high school and never pursued higher education. Instead, he focused on his music to make a career out of it. Prior to joining Lorna Shore, CJ was the lead vocalist in another band called Signs of the Swarm.
CJ McCreery Career and Getting Fired
McCreery was a hard find for Lorna Shore after their lead vocalist Tom Barber left to be the vocalist for another band, Chelsea Grin. Because Tom had such talent that finding a replacement for him would be impossible. After CJ joined the band, a lot of fans of the group weren't convinced at first, but CJ's performance got them all in favor.
CJ's career first started in 2014, when he was only 19 years old. He started singing as the lead vocalist for the band Signs of the Swarm. McCreery has two albums from his time with the band Sings of the Swarm, Senseless Order, and The Disfigurement of Existence. He was with the band from 2014 to 2018.
In the year 2018, after Tom left the Lorna Shore, CJ got the opportunity to replace him, and there was no way he would refuse it. The band announced that they were not going to disband and have a new singer and introduced CJ. During the one year with Lorna Shore, CJ has two songs. One of those songs proved to be fan favorite, their latest song 'DEATH PORTRAIT.'
But one December 23, the official Lorna Shore facebook page posted,
"Effective immediately, CJ McCreery is no longer the vocalist of Lorna Shore."
Following all the allegations about his sexual and emotional abuse, racism, and child pornography. Which all proved to be true. The band was planning to release a new album on 31st January 2020, how CJ leaving the band impacts the planned album is yet unknown.
All of this happened after one of his previous ex-girlfriends, Nicole Garvey, came out with the allegations and proof of his actions. Peoples are speculating that his career in music has come to an end following such a massive scandal. McCreery will be facing criminal charges in court.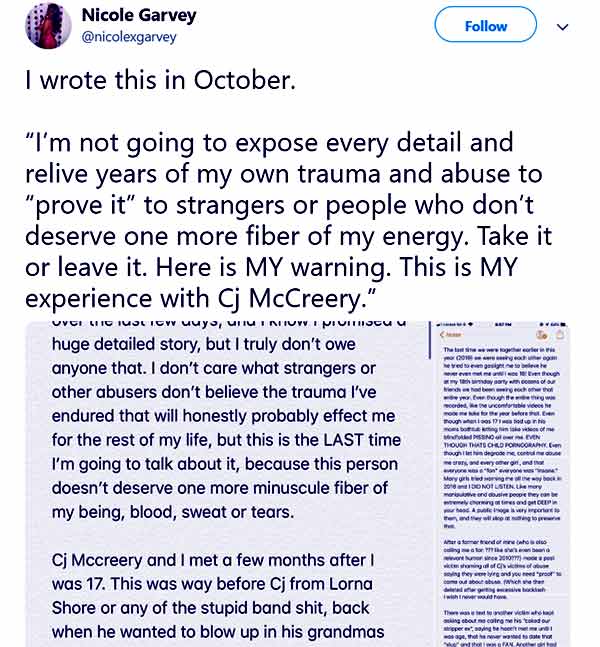 CJ McCreery Net Worth and Income
Following the whole debacle, McCreery has deleted his Instagram account, which was the only social media he used. Peoples are claiming that there was more damning proof against CJ in the Instagram conversations.
CJ has erased his presence from the media entirely, and we might only see him in court. He has impregnated a lot of girls, which he claimed were his fans, according to Nicole. So does he have enough money to provide child support to all those ladies? What is his fiscal stance? What is CJ McCreery's net worth?
CJ has two albums in the market and other songs as well. So, he might have garnered some wealth during his career as a singer but has lost all the fans. CJ has never revealed any of his financial details, so it is unknown what his net worth is. But it better be at least somewhere around the lower six-figure range, because if it is not, the trouble he is in is just going to increase more.
CJ's girlfriend has removed any and all kinds of association with him from her Instagram account. His current girlfriend's name was Morgan Joyce, but following the debacle, Morgan might be his latest ex-girlfriend.
Quick Facts about CJ McCreery
Name
Casey McCreery
Date of Birth
February 21, 1995
Home Town
Pittsburgh, Pennsylvania
Occupation
Singer, Vocalist (Metal)
Relationship status
Taken
Spouse/partner
Morgan Joyce (Girlfriend)
Nicole Garvey (ex-girlfriend)
Kids
Undisclosed
Net Worth
Under Review
Zodiac
Pisces