1. Ryan Buell became a star with the show 'Paranormal State.'
Ryan Buell gained an enormous fan following and celebrity stardom through his hit reality TV series 'Paranormal State.' The paranormal based American reality TV show featured since 10th December 2007 to 2nd May 2011 in the A & E Network. The show had a considerable amount of fan following and high ratings that crossed even the 2.5 million mark on its first season; this caused its production to over six seasons and 83 episodes. Ryan Buell was not just one of the main stars of the show but also a director and the executive producer for the show. The show gained mixed reviews while being popular among viewers it was also mildly criticized by critics often questioning its authenticity. The show's cancellation in 2011 followed the downfall of Ryan Buell's career and life which you will learn shortly below.
2. Ryan Buell had a film as well
Ryan Buell's work as a paranormal expert and investigator was widely loved and praised by a lot of his fans and the fans of the show. You could say that his great work was partly responsible for getting him a chance to work on a paranormal based movie 'American Ghost Hunter.' Ryan Buell was not just starring in the movie but also was the co-creator and executive producer of the movie. In 2011, the same year the show was canceled, Ryan Buell along with his 'Paranormal State' co-star Chad Calek decided to have a 41–city tour for the film.
3. Ryan Buell is Bisexual
Ryan Buell is renowned to this day for starring in 'Paranormal State' even after the show's cancellation. People might also know him for being the director and producer of the show but did you know he was also an author? Yes, he authored his book in the September of 2010 having written a memoir called Paranormal State: My Journey into the Unknown. The book also contains a personal side of Ryan Buell addressing the rumors of being gay. He is not gay but is a bisexual and his struggle to reconcile that with his religion, Catholicism. Ryan Buell had following words to say about his book:
"I've decided to share my sexuality and struggle over faith in hopes that others will no longer feel as though they are alone or that they can't be religious."
4. Ryan Buell got arrested for Felony
Finally, we get to the part which marked the beginning of the downfall of his career and eventually life. Ryan Buell was arrested on 18th September 2016 in Florence Country; South Carolina where the TV personality was raised after a warrant had been filed against him on his home country of State College, Pennsylvania. Ryan's arrest was hardly surprising or unforeseen considering his theft of ripping off his fans on multiple accounts.
He is facing two third-degree felony charges and a misdemeanor charge of theft or services or failing to refund or remunerate his fans, the tickets they bought for his 'Conversations with the Dead' tour after he postponed and later canceled it in 2014. His close friend Chip Coffey has shared that Ryan and his team were indeed responsible for handling the money collected from selling the tickets which had already reached up to 80,000 dollars. He was charged with all of his two felony charges of theft of leased property, receiving stolen property, and a misdemeanor for theft of services. He was granted bail on 18th October 2016 and also relinquished his passport on October 19.
5. Ryan Buell was Diagnosed With Cancer
Ryan Buell left his fans and followers in a sad surprise when he revealed to them that he was struggling with a major health issue of pancreatic cancer in July 2012. He opened up about it through his Facebook account where he uploaded a lengthy post about his condition and raised awareness about pancreatic cancer as well. In 2013, he told People's magazine that he was recuperating and near to receiving full treatment.
6. Ryan Buell has a long History with Theft
It was only found out later onwards when he was standing trial for felony charges in 2014 by his fans that his Pancreatic Cancer was also just a possible false excuse to cancel other shows he had to cancel.
7. Ryan Buell's Mother came to Forthwith the Truth
The person who blew the whistle on Ryan Buell's cancer gig was none other than his mother, Shelly Bonavita Lundberg following his arrest in 2014. Ryan Buell's mother came forth in Facebook requesting his fans to "stop enabling his situation" by buying or investing in anything promoted by a son, Ryan. She added that it was for love and concern of her son that she requests everyone to not fund in his plans and programs for he may not deliver them considering his deteriorating condition. Ryan's mother was not specific about what problem was faced by Ryan but simply wrote,
"He's ill, but not from cancer. His family knows the REAL story. You all need to stop believing his lies and stop enabling him…PLEASE."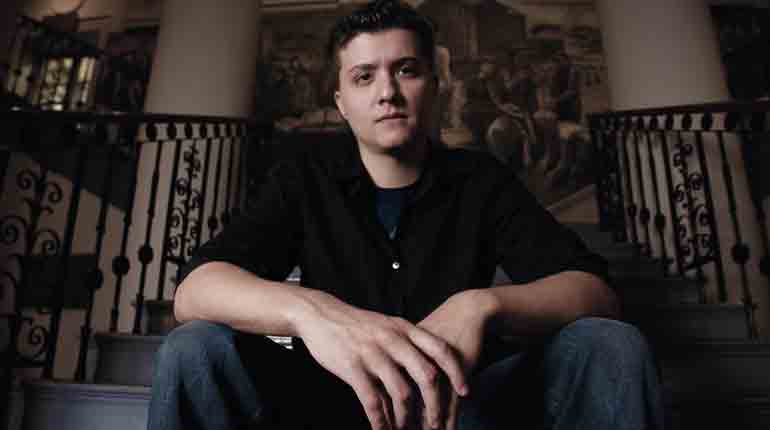 8. Ryan Buell got arrested, again!
After Ryan Buell's arrest, we thought it was the last we would see of the 'Paranormal State' star, but he appeared in the tabloids once again but once again for infamous reasons. He was arrested again on 21st April 2017 for an alleged fight and assault with his boyfriend. A police call was made to the police for Buell suffering an overdose, but when officers responded at the scene, they received hints of a possible physical altercation. Ryan Buell's unidentified boyfriend told the police he and Ryan got into an argument which quickly escalated to a fight where Ryan scratched his boyfriend's face multiple times and also bit one of his fingers. Ryan, on the other hand, said that there was an argument, but no physical altercations took place, however, the scars and marks on the boyfriend's face and finger proved a different story. Ryan Buell was charged with misdemeanor count of simple assault and a summary charge of harassment with bail granted at 25,000 dollars in district court.
9. Ryan Buell is a recovering Addict
Not that it should come of a surprise after all the illegal and infamous activities conducted by the former 'Paranormal State' star but Ryan Buell admitted to being a drug addict after he was released from jail and rehabilitation center. In a blog, he confessed and also wrote his other feelings of guilt and repentance. He confessed to having a "struggle with pain pills ever since the second half of the final season" of his show. He ended his apologetic blog with a modest sentence: "I don't want to disappoint people again."
10. He is Native to Pennsylvania
Ryan Buell was born on 8th July 1982 in Corry, Pennsylvania but he was raised in Sumter, South Carolina for most of his life. He has Italian and Native American ancestry in his ethnicity. 'The Paranormal State' star graduated from Penn State University with a Bachelor's degree in Journalism and Anthropology. During his time in college, he founded the Paranormal Research Society. Ryan Buell is not married to a husband or wife. Ryan Buell's exact net worth is not known, but some unverified sources have estimated his net worth to be close to the amount of 1.5 million dollars.