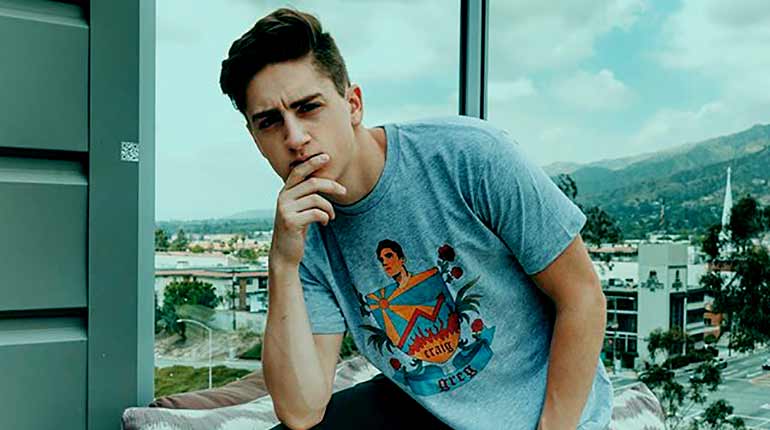 Danny Gonzalez is a popular American celebrity widely known for his great contribution in the video series "I Talk about a Thing." He is also a YouTube star with over 2.4 million followers on his self titled YouTube channel. He also does parody songs and doing popular music styles.
Danny started showing interest in technology at a young age. He was already an expert in video editing while still studying and in his 7th grade. He began as a vine star in 2013 on the vine app, a 6- second sharing app. By the time the sharing platform was closed, he had over 2.8 million followers.
Find out Danny Gonzalez's married life with wife Laura Fuechsl and children if they have any. Check out his net worth and other wiki facts from his bio. Find out more about his parents and also the truth about his gay rumors.
Who is Danny Gonzalez?
Danny Gonzalez is a young YouTube star popular due to his 'I talk about a thing' video series. He was born on June 12, 1994, in Illinois, United States. The Youtube star is a citizen of the United States of America. He is 25 years old.
Gonzalez started gaining interest in technology while in his early years in school and had become an expert in video editing while in his 7th grade. The love of technology drove him to further his studies in a college in matters concerning technology. His family whereabouts is not known. He has refrained from making his family public.
Danny Gonzalez began his profession in 2013. At this time, he was only 19 years old. He became very popular among the internet users when he did his very first video, 'Target headphones like what's up.' He was lucky enough to have his first video hitting hard. He also teamed up with several vine stars who included; Brennen Tylor, BigNik, Esa Fungtastic, and Thomas Sanders among many others.
Danny Gonzalez had got 2.8 million followers before the end of the famous Vines at that time. He later joined YouTube on 8th September 2014. On 2nd November 2014, he posted a video titled 'NEW Best Vines of 2014-FUNNIEST Danny Gonzalez Vine Compilation' as his first video on YouTube. Since that time, his channel has grown dramatically.
On July 2017, he shone once more on his YouTube channel when he posted a video tilted 'Zack King is a Monster' which up to date has been viewed 2 million times. He posted a video titled 'trying Troom Troom'S Awful Prank's, and he got 5 million views.
Currently, Danny Gonzalez YouTube channel has over 2.5 million subscribers and over 224 million views. The number is expected to rise even higher.
Danny Gonzalez is also an emerging musician. He has released some songs which include, 'Spooky Boy' in 2017 and 'Dab on Haters' of 2018 among others.
Danny Gonzalez Net Worth, Salary
Danny Gonzalez net worth is estimated to be around 1 million dollars. His net worth is also estimated different ranging from some sources claiming it to be around 500-600k dollars to other sources claiming it Danny Gonzalez's net worth to be as much as 5 million dollars.
This varied estimation of net worth makes the calculation of Danny Gonzalez's salary a very hard task for us. But we are hopeful that we will discover his accurate salary and net worth in the near future
His source of income comes from the various activities he carries out over the internet. He had gained a substantial amount of money on the vine platform before it closed, but his current sources of income are mostly based on his YouTube channel and other social media accounts, are also earning him vast amounts of money.
Is Danny Gonzalez Married, Who is his Wife and Children?

Danny Gonzalez wife is Laura Fuechsl. The two are happily married. It is not clear when they started dating. They live together in Atlanta, Georgia. His wife is very supportive when it comes to his career, and she sometimes takes roles in Danny Gonzalez videos. She featured in a video, 'Girlfriend Does My Make-Up.'
Danny Gonzalez has kept his family whereabouts out of the public. It is not known as to whether they have kids or not. However, their photographs and videos reveal that the two are happily married together.
Danny Gonzalez Gay Rumors
There is no information talking about him being gay. What we know is that he has a wife by the name Laura Fuechsl, so there is no way that he is gay. They are happily married together and live as husband and wife. If details contrary to these emerge, we will keep you posted.  As for now, we can confidently conclude that he is not gay.
Danny Gonzalez Measurements: Height and Weight
Danny Gonzalez is 5 feet 11 inches tall. He currently weighs 70 kilograms.
Personal life
Danny Gonzalez has continued to hit the internet even after the closure of the vines. This has been mostly through YouTube and his social media platforms. He freely interacts with his fans online, which makes him continue being relevant. He is very active on Twitter, Facebook, and Instagram.
Summary
Danny Gonzalez is married to wife Laura Fuechsl. His current net worth is $1 million. It is not clear whether he has children.
Danny Gonzalez's Birth Name, Age, Bio, Wiki
| | |
| --- | --- |
| Birth name | Danny Gonzalez |
| Age | 25 years |
| Place of birth | Illinois, United States. |
| Nationality    | American |
| Occupation | YouTuber and musician |
| Net worth   | $ 1 million |
| Height    | 5 feet 11 inches |
| Weight    | 70 kg |
| Wife    | Laura Fuechsl |
| Children | Unknown |
| Siblings | Unknown |
| Ethnicity | Unknown |
| Death-O-Meter | Alive |