Cesar Millan from Dog Whisperer with Cesar Milan- a television series on the Nat Geo wild channel, is best known for his work with canines. The Mexican-American dog behaviorist showcased his 25 years' experience working with dogs, trying to rehabilitate them on the show. The show had a good run with 9 seasons that ended back in 2012. Today revisit the show's glory days and find out about its star Cesar Milan's net worth and whether he has a wife or fiance.
Dog Whisperer Cesar Millan Net Worth 2018
According to TMZ, the dog whisperer pulls an impressive salary of $170,000 a month from the show as seen from his final divorce documents. Cesar Millan has a net worth of approximately $45 million in 2018 coming a long way from the $100 he had when he first came to America.
His net worth is mostly attributed to the show from 2004 until 2012. Part of his wealth also comes from his Dog psychology center which also includes the East Coast clinic that he founded. Other sources of income include his own Magazine and is the author of several books.
He went on to establish the Pacific Point Canine Academy that also contributes to Ceasar Millan net worth. This Tv star's success has made him feature in some popular TV shows such as Hell's Kitchen and Ghost Whisperer.
Ceasar Millan is engaged to long-term girlfriend Jahira Dar. Getting Married Soon?
Cesar took to Instagram to share the news with his fans before revealing the details of his proposal to his long-term girlfriend Jahira Dar exclusively.
The couple has been dating for six years until Cesar got down on his knee at Orizontes Restaurant, overlooking Acropolis of Athens. So while Cesar Millan is not married to a wife right now the possibility that he will have a wife in the near future is very strong.
We congratulate him and his fiance on their engagement and hope to congratulate soon enough for being husband and wife.
Source:- Divorce Debbie
He popped the question on Jahira to become his wife while on a romantic getaway in Greece. Sources reveal that he had changed the plane tickets to surprise her as they were initially to go to Spain.
He wanted it to be just as perfect as her timing when she came into his life. Cesar Millan and his fiance has been together since 2010, right after his divorce to Illusion Milan and the death of his dog, Daddy. 
She has been a crucial part of his life and has helped rebuild it especially after his suicide attempt in 2010. The couple still hasn't revealed the date of their marriage from their March 24th engagement.
Bio on his fiancé Jahira Dar
Most of the information on Jahira seems to be unknown mainly because she got into the limelight after she started dating TV personality, Cesar Millan. However, credible sources confirm that she is currently 33 years old. Moreover, his fiance Jahira Dar also comes from the Dominican Republic.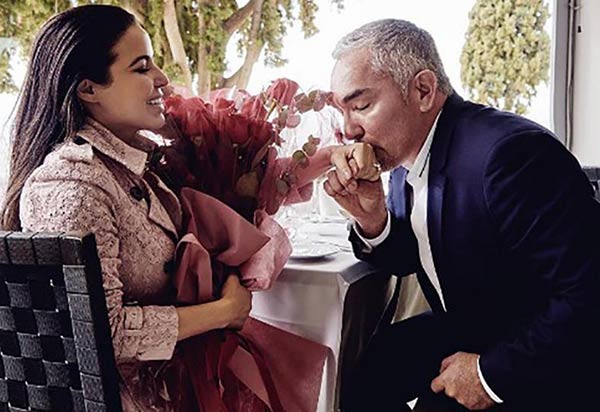 Caption:- Dog Whisperer Cesar Millan's fiance Jahira dar is currently 33 years old.
 Source:- Entertainment Tonight
His married life and divorce with ex-wife Ilusion Millan
Illusion Wilson Millan is the ex-wife of star Cesar Millan. They dated and got married back in 1994 for over fifteen years until she filed for a divorce in June 2010. The two had two sons, Andre born a year after their marriage in 1995 and Calvin in 2001.
She filed for a divorce citing differences and problems in their marriage. She even went ahead and sought out custody of her children with frequent visits from their father. An alimony of $2300 a month was added to a $10,000 monthly payment for child support. The reasons for their divorce is unknown, however, his relationship with his sons degraded as they blamed him for the divorce.
The divorce was finalized in 2012.
Wiki-bio, career, family, age
Cesar was born on August 27th,1969 in Culiacan, Sinaloa, Mexico to his dad Felipe Millan Guillen and Maria Teresa Favela, his mother. His grandfather was a tenant farmer and he grew up working on the farm with animals. At 21, he set off for greener pastures and crossed the border without  a visa with no knowledge on how to speak English
https://www.facebook.com/cwdogwhisperer/photos/a.1554689894754522.1073741828.1530387480518097/1954193788137462/?type=3&theater
He got his first job at a dog grooming store since he has always been great with dogs. The 49-year-old also worked as a limousine driver where he got an English tutor from one of his clients, Jada Pinkett Smith. In 2002, he worked with MPH entertainment to develop the show we all know him for, Dog Whisperer.
Cesar went on to establish the Pacific Point Canine Academy and now owns his own line of dog products and instructional DVD's. He currently resides in Santa Clarita, California.