Real life isn't a fairy tale, however, a long standing love turned into successful married life is nothing less than it. Kevin Lazan and his singer wife Rachel Platten holds a similar relationship.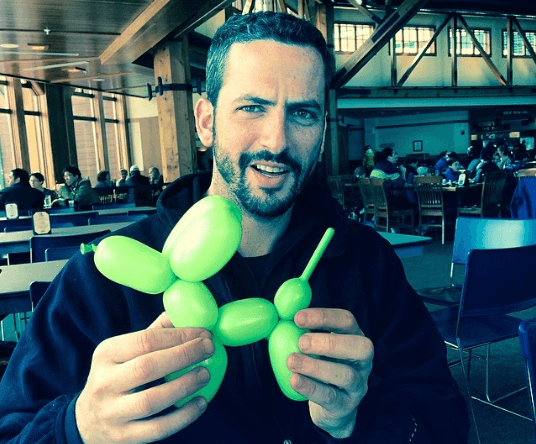 Caption: Kevin Lazan creative gift to his wife Rachel Platten
Photo Source: Rachel Platten/Insta
If you love blood rushing, skin tickling inspiring voice then you must be a fan of Rachel Platten by now. No wonder her hit song "Fight Song" caught the attention of Hillary Clinton which prompted her to use in almost every rally she had. Well, since breakthrough Rachel has been dominating the stage and has marked name with an Emmy Award in the process.
Few are familiar with her husband Kevin Lazan who is specialized in strategy and finance. Well, the duo seems to have a different field of interest but love doesn't  speak the language of the profession as they are patched up since 2006. At that time Kevin used to work as Lawyer, Rachel was singer and songwriter like as now.
The pair first met in new york and love was imminent. "We just clicked instantly, Kevin is kind and brilliant, he loves music and is an incredible movie-quoter, something I rate very highly" which Rachel told New Southern Wedding.

Caption: Rachel Platten and Kevin Lazan before marriage
Photo Source: Rachel/Insta
The pair has been together for almost 11 years and astonishing love turned married life is blissful in every way. They recently celebrated fifth marriage anniversary at the end of this July. The pair is yet to welcome children in the family. Know more about Kevin Lazan and his relationship with wife Rachel Platten.
Six years of love relation turned into married life with awesome farm-wedding
The pair stayed in love relationship starting from 2006 before finally tying the knot with an unreal wedding ceremony in 2012.

Caption: Wedding day bliss for lovebirds Rachel and Kevin Lazan
After the proposal for the wedding during tree-lined carriage walk in New England, soon the pair went on planning their huge day. Unlike, usual weddings, Rachel envisioned her wedding day to be homegrown and organic as she opened about her big day, "We didn't want the instant wedding-in-a-box, but rather, we wanted to create something completely unique". She further added, "Glamour on a farm immediately appealed to me."Well, her wish came true as it happened with a traditional Jewish ceremony on a farm in Mount Hope Bristol, Rhode Island, England.
Since then the pair has gone onto celebrate the fifth successful anniversary with Rachel regularly posting and wishing husband Kevin happy anniversary on 31st of July.
It seems Kevin wasn't as famous in 2016 since Google mistaken Jake Gyllenhaal with Kevin which is not gone unnoticed to Rachel Platten.
Rachel content with celebration must have let her down this year as she forgets to wish Kevin on 31st July. She makes it up with a cool snap of the pair next day.
The relation between pair seems so close and unfazed by time. So, not a single hint of divorce at all.
More on Kevin Lazan and songstress Rachel Platten's amazing relationship
The fun and loving couple share a happy and ever flourishing relationship. The couple has some unpleasant and embarrassing first date encounter that has no consequence on their growing love affair. In an interview with Andpop Rachel recalled about her first date with Kevin as she told:
"It was really gross, dingy, Lower East Side dungeon kind of bar. It [looked] like lesbian night that night, so there was a lot of women snuggling, which is totally cool."  
She further added:
"But he was really embarrassed. He was like, 'Oh my god, this is not what I meant to bring you to. Oh my god.' I think his friend was punking him."
First impression thing mightn't have gone well with Kevin but he certainly won the heart of beauty.
Platten's singing career took off with her super hit 'Fight Song' in 2015 which earned her enormous popularity. New found fame, and a huge mass of fans hasn't caused her love any less for the family. Moreover, Rachel is evident praising Kevin in different interviews. Kevin has been a huge part of success Rachel has achieved lately which she shared to UsMagazine."I'm married to an amazing man, we've been together for 10 years, and he's a huge reason why I kept believing in my dreams." She also wrote about Kevin in her song "Superman" from album Wildfire. Well, the pair holds a pretty impressive relationship. Despite the fact the pair is married for five years there are no kids in the family.
Short Wiki like bio on Kevin Lazan and net worth
The founder and CEO of The Gables, Kevin Lazan was born in United State to father David M. Lazan. Kevin graduated in Arts from the University of Massachusetts. He holds an MBA degree from the NYU Stern School of Business. Kevin gets headlines and recognition because of his singer and songwriter wife Rachel Platten.
There is few or little information on Kevin's details like his birth date, age, height or siblings. Likewise, there is no information on his net worth. In his professional career, Kevin has worked as a lawyer, advisor, manager, and director. Currently, he is the owner of 'The Gables',  LA based cafe.
If we talk about Rachel Platten net worth, it has significantly risen since her breakthrough in 2015. Rachel has a net worth around $5M and it won't be a surprise seeing the value rising for a person at the peak of career.
By: Gerrardhayley
Updated: August 24, 2017