A former actress Khatira Rafiqzada went from working part-time in the restaurant to making debut in Hollywood movie  "Chain Letter"(2009). She didn't get much success in professional acting career but got a wonderful hubby in the process. Khatria is the wife of black American actor Michael Ealy and mother of two children. She is uber private about her life even she doesn't have a social media account for public interaction. While we aspect her husband, Ealy to shed some light on their life but this "Think Like a Man" actor enjoys privacy like his partner. Get detail about Khatira Rafiqzada in this wiki like a biography.
Khatira Rafiqzada wiki/bio/age
Khatira Rafiqzada was born in 1981 in the United States. If we trace her family background, she is from the ethnic group of Afghanistan. As much we love to know about the story of her growing up or who her parents are she has kept all the details to herself.
Khatira took low profile job even worked as a restaurant manager in New York while pursuing a career in Acting. She got her acting debut in 2009 horror thriller movie "Chain Letter" with a small role; the film was a box office flop. She has another acting role in short dram action Layla (2009). While her professional life is defined by these two movies, her personal life flourished during the period.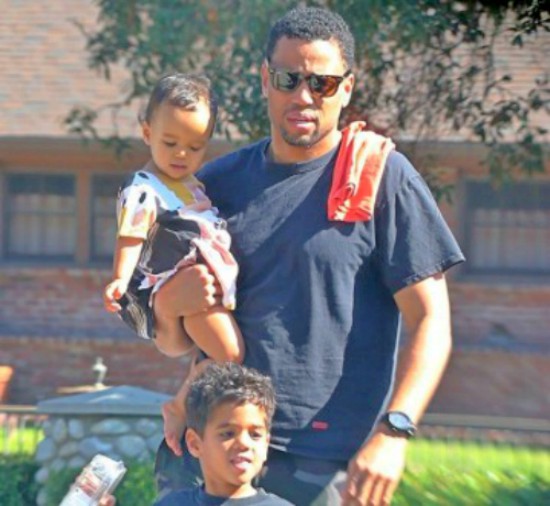 Caption: Khatira Rafiqzadad husband and kids
She started dating actor Michael Ealy sometime in 2008. After four long years of affair, the couple married in October of 2012. Like we said before the couple is very strict when it comes to giving information about their personal life. Micheal and Rafiqzada got married in a private wedding ceremony in Los Angeles but only after two months of marriage Ealy's rep confirmed the news to media.
They are parents to two kids a son Elijah Brown born on April 18, 2014, and a daughter. Ealy public announced the birth of his infant daughter in Steve Harvey Show in November of 2016. He said;
"I just discovered a whole new love. I've never ever felt this way before. I was wondering if I could love another child as much as I love my son. And what I realized, within hours of my daughter being born, not only do I love her just as much if not more. It's a special kind of protective love."
Khatira Rafiqzada married life and family
Actor Micheal Ealy doesn't share much about his wife be it interviews or through social media. While speaking in an interview with Wendy Williams in 2016, Ealy explained reason behind  his more private life;
"I don't live my life in a social way. I don't put everything out on social media. I don't live that reality lifestyle. At the same time, I've always been private, ever since I was in high school. Like, people think, 'Oh, you're in Hollywood,' I'm like, 'No, no.' If you knew me in high school, you knew. I learned then, if you want something to work, if it means that much to you, keep it to yourself."
This Hollywood hunk didn't hold back when American President Trump issued seven-country travel ban into the United States.  He posted a picture of himself and his wife on Instagram protesting the decision with a hashtag of "NoMuslimBan."
No doubt Ealy is supporting husband, in his other rare Instagram post he has shown loving side with a beautiful caption for his wife.
Khatira Rafiqzada Net Worth
This wife and mother of two kids have not appeared in movies or followed professional acting career past marriage. Lately, she is more focus on family and kids. The detail about her net worth is not available. As for Ealy, he has a net worth about $3M.