Living alone isolated from the world fighting against freezing climate and there are wild things that are ready to snap the flesh from the body. Life Below Zero cast Sue Aiken is used to living like this. Sue has got lots of women who look up to her and admire the way she has developed affection for nature in Alaska.

Caption: Sue Aikens and cold harsh Alaskan winter
Sue Aikens is living in Alaska since her tender age. After baring her parents to go through divorce Sue moved to Alaska with her mother leaving 11 years of stay at her native place Chicago. Since then Sue is a professional in surviving against harsh climate and worst possible scenario. Also, Sue earns money out of living. She has accumulated an impressive net worth by surviving in cold freezing Alaskan Lifestyle amongst wolves and bears. Know her net worth.
Sue Aikens Net Worth
Sue Aikens has a net worth over $500,000. Thanks, to her income from 'National Geography' hit show "Life Below Zero" and her Kavik River camp, generate her massive earnings. Well her earning is making of her hard work and gritty nature. She has worked on three different reality show based on Alaskan lifestyle. She started as the cast of "Sarah Palin's Alaska", then moved on to her second show "Flying Wild Alaska". We all know her third famous reality show "Life Below Zero". Sue Aikens earns a sum of $ 200,000 per year and her monthly income is  $16000. Her income increases with hunting season as she gets to make cash from hunter gathered in her Kavik River Camp.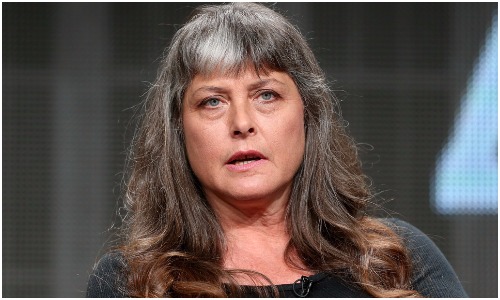 Caption: Life Below Zero Star Sue Aikens
Reality tv show "Live Below Zero" began airing in TV set since 2013 and it has gained further popularity amongst audience with time as the show is currently in its 9th season. So, it wouldn't be a surprise seeing Sue Aikens net worth rise with time.
Sue Aikens Family, Husband, Children, Grandchildren
Sue is a person who likes to keep her private family life away from the spotlight. That is why there are little details on her family. However, Sue Aikens has two daughters both married and living in the United States. She has a son who wedded to his long standing girlfriend in October last years.
I slipped the collar last week to see my Son wed his girl. Congrats to them both, yay!! You cant take the Idgie out of this tomato 🙂 pic.twitter.com/F67UsHq2BU

— Sue Aikens (@SueAikens) October 2, 2016
Despite the fact living far from her children and grandkids she has managed to maintain love and relationship in the family. She is usually exchanging words through social media. She sends rare things from cold Alaska to her children and grandkids. Similarly, she receives gifts and other materials from her family. Currently, she owns a dog which her grandkids sent her after raising for a year. Sue's happy days turn to reality when her grandkids come to visit her during summer seasons. Having lost an infant grandson named Kamon in 2013, she is all happy now.

Caption: Sue Aikens granddaughter and grandson(L)
Photo Credit: eceleb-gossip.com
Details on Sue Aikens husband are also missing. According to sources, she has been married to three different men. Amongst two of them died and one left her for a younger girl.
Sue Aikens Interview
Besides being a tough woman in our TV set we barely see Sue Aikens during any interviews. Many seem to wonder about Sue Aikens Lifestyle. During an interview with National geography, Sue Aikens opened the things that would surprise other regarding her life style. As she answered:
"It seems to me that most people cannot get over the fact that I don't get lonely. We are, as human beings, hard-wired to relate to things on an emotional level and I have worked hard to remove that equation from my life. For example, I do not allow myself the luxury of feeling lonely; however, I do register that I live alone. I am never sad, but I register that I may not be particularly happy at the time. It is how you look at life and register your own response that allows you to live well. (And I love opera… that gets them every time.)"
Further Sue opened being an outdoor person having an affinity for animals. It is obvious, Sue lives a life that hard and fearful. As for Sue, she is used to harsh climate and animals that surround her but more importantly, it's the way she tackles all the hindrance and fear kept her going all alone in Alaska. She also opened how she controls fear:
"I don't allow myself to feel fear. I can register after the fact that a situation was potentially lethal or scary, but in the moment, it is just another situation that must be calculated and handled RIGHT then. I do not allow myself the luxury of emotions, as I feel it is the quickest way to go "bushy." " 
Wiki Like Bio on Sue Aikens
She was born on 1st July of 1963, in Mount Prospect, Illinois. According to her birth date, she is 54 years of age now. After her parents get divorced she moved to Alaska with her mother at the age of just 12. Later she was left all alone by her mother to fend herself in the harsh condition of Alaska. In 2007 she has to got terrifying bear attacks causing several severe injuries and make it through. Later in 2012 she joined casts of reality TV show "Life Below Zero".
By:Gerrardhayley