If you fancy relationship stuff turned into perfectly executed comedy then comic man Louis Ck will be undoubtedly your excellent selection for comedies. This Mexican-American is a bag of talent who started writing comedies for others and currently he's a longtime stand-up-comedian, actor, writer, producer, director, and editor.
Besides his professional life, several fans appear to have an interest in his personal life details like his woman, ex-wife, children. We will serve your curiosity in this article along with his impressive net worth.
Louis Ck and wife Alix Bailey long married life ending with a divorce
Having a famous husband  Louis Ck has turned the spotlight on Alex Bailey. Portrait painter Alix Bailey and Louis got married in the year 1995. There is few and far information about pair before marriage, however, some report suggests Alix was there for Louis even before he was famous. So, no surprise the pair dated for a long time.

Caption: Louis Ck (L) and his wife Alix Bailey(R)
Photo Source: eceleb-gossip.com
The impressive relation between pair followed even after marriage.  They were inseparable at times. Alix even starred in few black and white short films made by Louis. After nearly 13 years of marriage, the pair got divorced in 2008. Neither Louis and nor Alix has opened the reason that caused them to separate from each other.
Even after the divorce, the pair has been a friendly face and they are equally involved raising their two beautiful daughters.
Louis seems to be enjoying life after divorce. He has gained new heightened status in his profession with TV show 'Louie' which he used for depicting the life of the divorced single father. One of the famous quote his 49-years-old comic man would make it easy to picture his past marriage life.
"Divorce is always good news. I know that sounds weird, but it's true because no good marriage has ever ended in divorce. That would be sad. If two people were married and … they just had a great thing and then they got divorced, that would be really sad. But that has happened zero times."
For those wondering if he married again and settle with a wife, or dating a girlfriend we will bring the answers onwards.
Is Louis Ck married a wife or dating a girlfriend after divorce?
It's been seven years since Louis Ck and Alix married relation came to an end. So, it is obvious fans are wondering if this funnyman is married again.

Caption: Louis Ck and rumored girlfriend Pamela Aldon hand in hand all cozy
Photo Source: Dailymail.co.uk
After the divorce, Louis seems to have found love with TV show 'Louie' co-star Pamela Adlon. The rumors came flying when the pair were spotted together hand in hand during a shopping outing in 2015. Pamela and Louis both are single and divorced. Further, they are familiar with love and relationship through their self-portrayed characters in same TV series. It's 2017 and still, the rumors of the duo being in love haven't subsided. The pair is yet to confirm if any of the rumors linking them is true.
There is not a single information or news on Louis Ck getting married again or having a wife. As for now, Louis is divorced, single father occupied with the profession.
Louis Ck  has two children with Alix Bailey
Louis Ck and Alix have two beautiful daughters named Kitty Szekely and Mary Louise Szekely. The pair welcomed daughter Kitty Szekely in 2002 after seven long years of marriage. Three years later in 2005, the pair was blessed with younger daughter  Mary Louise Szekely. Despite the fact Louis likes to Jokes about his kids in the show, he is very much a loving father. Louis and Alix have joint custody of children so the pair is equally involved caring and sharing time with daughters.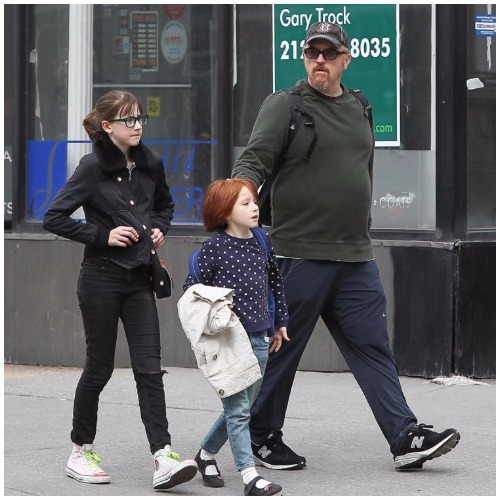 Caption: Louis Ck daughter Kitty(L) and Mary(M)
Photo Source: nydailynews
Louis Ck being a single father to his kids and some amount of honesty mixed with his usual sense of humor. One of the quote from funny Wiseman Louis:
"I'm a great father because I only get my kids for half the week. It's every parent's fantasy. I say goodbye to them on Wednesdays and know that I'll be lying in a pile of my own filth until it's time to see them again."
Louis Ck Income, Net Worth 2017
Louis Ck is a successful professional in case of fame and earning. According to Forbes, Louis Ck has a net worth of $52 M as of 2017. Louis Ck income is generated from TV shows, stand up comedies, touring and big deals with the different entertainment company. Louis net worth is more than doubled as compared to the value in 2016. The estimated net worth in 2016 was $25M. The reason for the astonishing rise in net worth is due to his mega deal for two stand-up specials for the streaming service with Netflix.
Short wiki Like bio on Louis Ck
Louis Ck was Born on September 12, 1967, Washington, D.C, USA, with birth name Louis Székely. He stands with a height of 6ft (1.83m). Louis is born to parents Mary Louise, a software engineer, and Louis Székely, an economist. He has three sisters. Louis Ck holds Mexican and American citizenship that makes him Mexican-American.
By: Gerrardhayley