One thing that connects Samantha Speno and Kim Marie Kessler is their relation with WWE superstar  Randy Orton. Well, if you are wondering who they are then don't, you will know about them in this article.Marrying a famous husband has its benefit and tolls. Besides being famous for relationship you get to share staggering net worth that their partner earns. Well, the toll is that there always will be an eye on you and you can't get to live personal life as you may wish for. Let's have a look at the personal life of  Randy Orton with details on wife, marriage, and children.
Samantha Speno and Randy Orton's first meeting to marriage
Well, every relationship has it's beginning right! According to the source close to Samantha and Orton, the pair,  were in the bar when they first encounter and met each other.  Orton couldn't resist the temptation as he decided to change the meeting into something fruitful. That's when he asked for the number.
It didn't take long for spark between them to turn into a love affair and into engagement. The pair tied the knot with engagement in 2005. They further cemented their relationship with bond of marriage on 21 September 2007.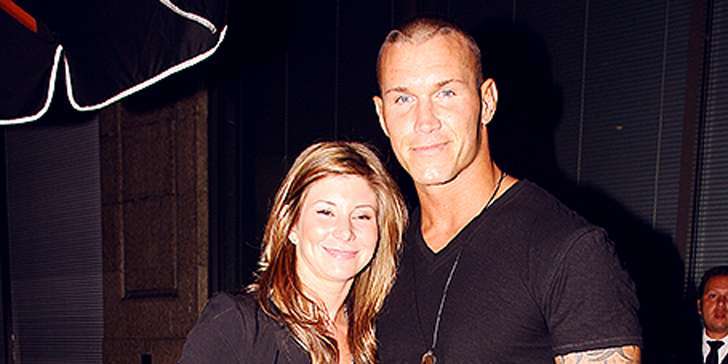 Caption: Happily married Randy Orton and Samantha Spano all smile
Photo Source: articlebio.com
The happily married couple Randy Orton and Samantha were further blessed when they welcome daughter  Alanna Marie Orton on 12th of July 2008. Alanna Marie Orton is currently 9 years of age and she is grown and as seen in the snap below. She is at right as and standing as seen in the pic.
— Alanna Marie Orton (@AlannaOrton01) March 27, 2016
Randy Orton and Samantha Speno divorced with wife Samantha filing
Randy and Samantha get divorced in 2013 and it was Samantha who filed for divorce. As for the report Samantha cited the relationship to be   "irretrievably broken". Divorce agreement shows, Samantha was given sole custody of the daughter with Orton allowed to visit her. Furthermore, the divorce seemed amicable as Randy Orton was allowed to keep most of his property. Despite the divorce, the pair are good friends and care for their daughter Alanna Marie Orton.
Caption: Post emerged in facebook with Samantha Orton with a birthday wish to Randy Orton
Randy Orton moved on from divorce and married to  Kim Marie Kessler
As much we wish Randy Orton and Samantha to be back in relationship, it doesn't seems likely as Randy Orton began new chapter in his book of relationship. He married his die hard fan Kim Marie Kessler in November of 2015.
The relation between Randy Orton and Kim goes all the way to love. The intiation of love affair between duo is yet to revealed, but as for the news the couple get engaged as Randy Orton proposed his girlfriend Kim with a shiny beautiful ring.
He asked and I said YES 😍💍❤️ @RandyOrton pic.twitter.com/zNTrlp9OQ1

— Kim Marie ❤️ (@KimKlro) July 5, 2015
Kim Marie Kessler flashes the engagement ring as she said yes to the proposal. After tying the knot with girlfriend, they got married with a wonderful wedding ceremony.
❤️our family❤️ @RandyOrton pic.twitter.com/BjUng39iWG

— Kim Marie ❤️ (@KimKlro) November 16, 2015
More Blessing for Randy Orton as he welcomes another child
We all remember Kim Marie Kessler showing her Baby bump as she posted a snap in twitter. Fans and twitter user didn't take long to congratulate with comment section all filled with blessing.
@RandyOrton and I have been so blessed, and now 1 more blessing for us 👶🏻💞. A little princess 🎀💝👑 #thanksgivingbaby pic.twitter.com/E4w8x7UKj8

— Kim Marie ❤️ (@KimKlro) May 25, 2016
Well, blessing became reality as Randy and Kim welcomed Brooklyn Rose in the family.
This Thanksgiving I'm thankful for Brooklyn Rose @KimKlro pic.twitter.com/fgpH9nQyr8

— Randy Orton (@RandyOrton) November 24, 2016
Bio on Randy Orton's first wife Samantha Speno
Born on January 11, 1982, Samantha Speno is currently 34 years of age. She has a Jewellery line known as 'Rocks and Stars'. She used to be a gym instructor but currently, she is working as a makeup artist and fashion stylist.
After the divorce agreement, she kept what was in her bank account which was a sum of  $ 645,000 and she got to keep her engagement ring which is worth $99,000.