Everyone hopes for a happily married life with a sweet family to share  love. But it's in human nature for people to change with time. So, if an individual can't cope with the situation and heat of the moment then  there will be obvious heartbreak as  relationship come to an end.
This is the case with  Vanessa Villanueva and Chris Perez married life.  So what caused the demise of a long-standing relationship between the pair. Let's have a look at the relationship between  Venessa  Villanueva and Chris Perez.
Divorced in 2008 after staying married for more than 7 years
Many would know Vanessa Villanueva as Vanessa Villanueva Perez because of her famous guitarist husband Chris Perez.  Before we begin with divorce and marriage, a quick peek at how they get to know each other.
Well, Vanessa is second wife of Chris. Before her, he was married to wife Selena Quintanilla who was a singer. Life didn't  go as Chris would have planned as his wife was murdered  on 31st of march. Chris have to go through tragedy and series of torment  because of circumstances life life has brought to him.
Caption: Gutarrista Chris Perez and his singer wife Salena Quintanilla together in a band
Photo Source: Pulsopop.com
Vanessa and Chris met each other in 1998 through a mutual friend  John Zara. They started seeing each  other  and love start to grow between the pair. After dating quite some time they decided to be in relationship. They stayed in relationship for more than two year without being married. The pair of the duo was confirmed husband and wife when they tied the knot with a wedding ceremony in 2001.
After successful  and happy married life, the relation came to end in 2008 as wife Venessa filed for divorce with husband Chris Perez. As for the source the reason is cited that Chris was never at home and he was occupied with alcohol consumption and parties.
According to Chris he never wanted to be part of divorce but relation can't be based on single person. As he said:
"Divorce is a pain in the ass, especially when people try to start drama with you. But fortunately there's peace now."
https://youtu.be/QW15ca5FwfQ
Caption: Chris talks all about the pain he suffered after Selena's Death in 1997
Vanessa Villanueva and Chris Perez  share two beautiful children
Family is base for a strong relationship between husband and wife. Well,  incase of Venessa and Perez two beautiful children couldn't sustain the relationship between the pair.  They share two children with a son named Noah Perez and daughter Cassie Perez.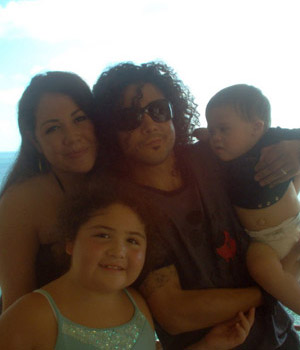 Caption: Chris Perez with wife Venessa, Daughter  Noah and son Cassie
Source: Liverampup.com
Vanessa Villanueva now; Has she moved on from Divorce?
After split with former husband, Vanessa seems to be focused on her children. As Venessa hasn't been vocal about her personal life, she might have moved from heartbreak and found a new love to rejoice or she could be single all the time. Thus we need to be patient for any exciting news on her.
Well, Vanessa is more famous for her relationship with Chris than her profession.She has earned a mediocre level of fame in the acting profession. Her most notable achievement in movies includes roles in "Memphis Rising: Elvis Returns" (2011) and "Forgotten Memories" (2015).
Vanessa is hardworking and gritty while it comes to work. Though she should have made quite an earning from her profession and involvement in other revenue generating activities. She hasn't revealed net worth through any statement.