Eminem is a well known and buzzed person as a rapper. In fact, he is known as rap god. Many are familiar with Eminem's professional life and often judge him from his abusive rhymed rap songs. But, in real life, he is nothing close to those abusive songs as he has shown it many times through social works like adopting children and giving them a family to live. Well, meet Alaina Marie Mathers who has found a home and family in generous Eminem.

Photo Source: Pinterest
Alaina Marie Mathers is adopted daughter of rap god Eminem and his ex-wife Kimberly Scott. Alaine isn't the only daughter to be adopted in Eminem family as she has sister Whitney Scott Mathers. Let's find more about beautiful daughter Alaine Marie Mathers.
Alaina Marie Mathers wiki like bio
Alaina was born as Amanda Marie Scott on May 3, 1993, which makes her 24 years of age. She is born to mother Dawn Scott who happens to be Kimberly's twin sister. As for her biological father, all the information are concealed but there are rumors that suggest Eminem to be that person.

Caption: Aliana Marie Mathers and sister Hailie Scott
Photo Source: Pinterest
Alaina Shares a wonderful relation with younger sisters Hailie Jade,21, and Whitney Scott Mathers,15. She has two brothers Patrick Scott and Adam Scott from mother Dawn Scott. Besides names, there is little or no information on her brothers.

Caption: Aliana Scott and Hailie Jade during their childhood
Photo Source: moviepilot.com
Alaina has got loving father in Eminem who commits himself to the family. Eminem and Alaina's mother Dawn Scott were close friends from their younger age. When Dawn was just 13, she and her twin sister Kim moved in with Eminem and his mother. Dawn was an avid drug user and Eminem is no immune to the fact as he has his share of encounter with drug abuse.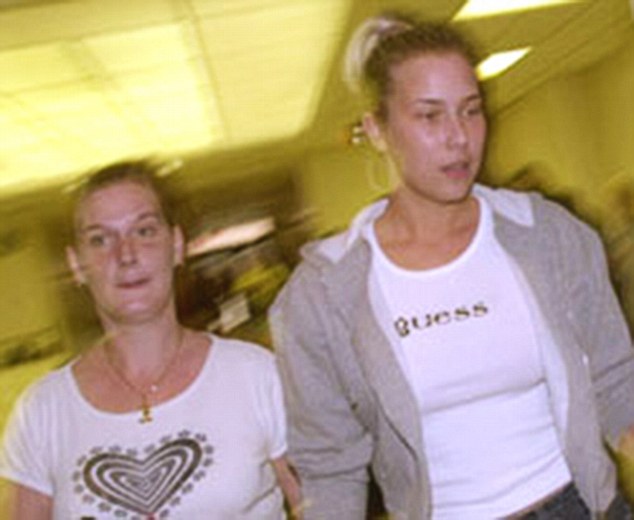 Caption: Twin sisters Kim Scott and Dawn Scott
Photo Source: Dailymail.co.uk
Alaina Mother Dawn Scott is no longer in this world as she was found dead in January of 2016. The reason for the death is believed to be the heroin overdose.
If we look further close to the relationship between Alaina and her father Eminem, there seems a lot of love between the pair. Eminem is widely known as the rapper who mixes his personal life and feeling into his songs. Through his songs, he has shown hatred for his mother only later to reiterate how his feeling has changed into love for her. When it comes to daughter Alaina, he has shown only love through his songs. He has mentioned her in his several hit songs.
Is Alaina Marie Mathers dating anyone or has a boy friend?
Alaina Marie Mathers is familiar with popularity and fan followers. Despite the recognition she has gained through her famous father Eminem she seems to keep her personal affair to herself. She is young and beautiful so no wonder many would fall for her. As for now, there is no information on her dating affair or boyfriend. These days social media comes in handy to know about the personal lives of celebrities. But for Alaina, she doesn't seem to use Instagram or any other social media as there is no evidence of her boyfriend or if she is dating anyone.
Alaina Marie Mathers Net Worth
Alaina Marie Mathers is 24 so she must have persuaded something as her profession. As there is no information on her education or her jobs so her income and net worth are quite unknow. Her father Eminem has done quite well with his profession and earning. Eminem's net worth has significantly risen, as for 2017 he has a net worth of $201 M.