Helene Boshoven Samuel also known as Leni is the daughter of German-American model Heidi Klum. She is born to Heidi Klum and Italian businessman Flavio Briatore. Helena is growing beautiful like her mother while enjoying her thirteen. She was born and raised away from her biological father. When a child grows away from her father then it is hard for any children.Was growing up hard for Helene? Did Heidi raise her alone? Check out the details and facts on Helene Boshoven Samuel.
Helene  Boshoven Samuel was born after her parent split
Helene was born on May 4, 2004, in New York, United States. When she was born her parents (Heidi and Flavio) were already separated. Heidi started dating Flavio in March of 2003. The same year in December, she announced the news of her pregnancy. However, soon afterward the two separated. The relationship lasted less than a year.
Moving on from the relationship Heidi met British singer Seal. He was present for the birth of Helene in 2004. A year later on 10th of May 2005, Heidi got married to Seal on a beach in Mexico.
Helene was adopted by her stepfather
Despite being a biological father, Flavio has a few role in Helene's life. After her birth, she was brought up by Heidi and her ex-husband Seal. She barely saw her biological father. Helene used to speak with him for two hours a day however that wasn't enough for her father. Flavio felt the need of a child to grew up in a family. Addressing the needs of the situation he happily agreed with Heidi and Seal for the adoption.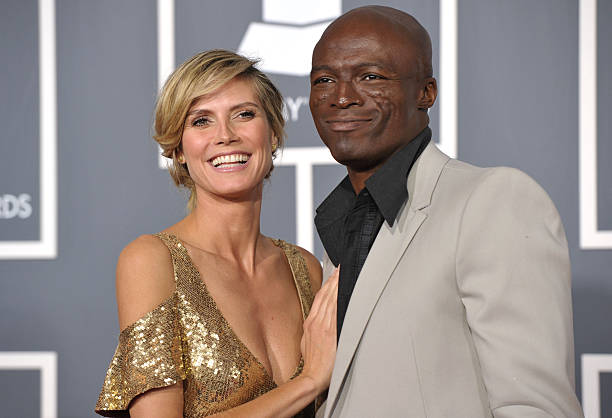 Caption: Heidi Klum and her ex-husband Seal
Flavio told Italy's Il Corriere Della Sera:"Leni is my natural daughter, but the three of us happily agreed that it made more sense if Seal adopted her because a child needs to grow up in a family,"  In September 2009 Seal officially adopted Helene Briatore making her Helene  Boshoven Samuel.
She has three Siblings and a half-sibling
Helene is eldest among three of her siblings. A year after Helene was born, Heidi and her ex-husband Seal gave birth to Henry Günther Ademola Dashtu Samuel (born 2005). Heidi's other two children are Johan Riley Fyodor Taiwo Samuel (born 2006) and Lou Sulola Samuel(born 2009).
Helene has a half-sibling Nathan Falco Briatore(Born 2010) from Flavio and his wife.
Helene lives with her mother after Heidi and Seal divorced
While for the rest of the people watching them closely, the couple was leading a happily married life. Heidi and Seal were together for about 7 years before the marriage ended in 2012.
"Klum demanded the divorce because she was worried about the effect Seal's 'inability to control his temper' was having on their children. She was also fed up with the British singer's 'hard-partying" which according to TMZ.  Later, the couple gave the joint statement citing they grew apart and the divorce was amicable which finalized in October of 2015.

Caption: Helene with her mother during an outing for shopping
Photo Source: Dailymail.co.uk
Helene lives with her mother. She is often spotted during an outing with her mother. After the divorce, Heidi takes care of four of her children. She gives herself credit of "Mom and Dad" at the same time. Regardless of busy schedule, she is able to raise her children as a single mom. Heidi even says "Women are capable of juggling a lot of balls " while referring to her lifestyle.
She has non-existent relationship with her biological father
Helene was raised by Heidi and her ex-husband. She grew up without seeing her actual father. A relationship is based on love, more importantly, how much time one is willing to spend with their loved ones. In case of Helene and her biological father, the match seems to be an odd one. Helene's father admits no longer having a relationship with her. Her Italian father Briatore told:"It's hard to miss a baby that you never see. But I know that Leni is not an abandoned child. Leni is part of Seal's family and Nathan is part of mine." 
Wiki
Name: Helena Boshoven Samuel
Nickname: Leni
Birthdate: 4th May 2004
Birth Place: New York, United States of America.
Age: 13 years
Nationality: American
Parents: Heidi Klum, Seal Samuel, Flavio Briatore
Siblings:  Johan Riley Fyodor Taiwo Samuel, Lou Sulola Samuel, Henry Günther Ademola Dashtu Samuel
Half-Sibling: Nathan Falco Briatore
Profession: Student
Religion: Christian
Ethnicity: Italian American, German American
By: Gerrardhayley