We all know the human relationship is far from easy and it's always hard to predict whats running in others mind. So, to have successful and long-lasting relationship is challenging for the individual and few are able to live it. Well, the actor-singer Ice Cube is few of those people. He is married to Kimberly Woodruff for a long time and relation doesn't seem to be slowing down a little bit. Many wonder how the pair are able to be together for so long.

Caption: Ice Cube and Kimberly Woodruff during the LA Family Housing 2017 Awards
Photo Source: Gettyimages
For those wondering about Kimberly Woodruff, she is neither an actor nor a singer. We all know the fame Kim enjoying is making of her husband. Let's have a closer look at Kimberly Woodruff and Ice Cube relationship with details like dating affair, married life, family, and children.
Ice Cube Love affair to marriage with wife Kimberly Woodruff
Ice Cube when first met Kim he wasn't as famous and was in the beginning of his career. He had a thing for Kim but didn't stand a chance against her because she was already in a relationship with another man.
When the couple met six months later, Kimberly was fresh from her split with ex-boyfriend. Ice Cube didn't take long to rekindle his love interest in Kim. Soon, the pair started dating and gradually they became inseparable. After dating and knowing each other quite well they changed love affair into engagement. After getting engaged in the year 1991 the pair tied the knot with a wedding vow on 12th of April 1992.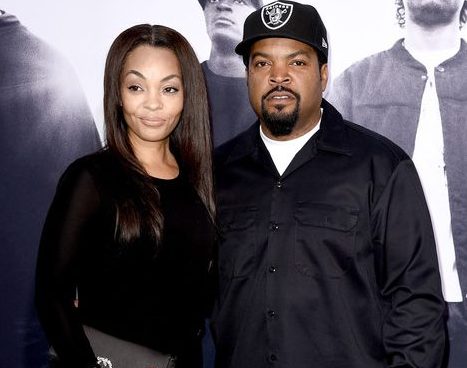 Caption: Ice Cube has got super suuportive partner in wife Kimberly Woodruff
Photo source: Zimbio
While talking to people.com, Ice Cube came up with advice for having a long-lasting relationship as he said:
No wonder Ice Cube has celebrated 25 years of marriage together and the relationship between pair don't seem to be slowing down.
Ice Cube and Kimberly Woodruff as husband and wife
Kimberly Woodruff shares an impressive relationship with her husband  Ice Cube. It's been more than 25 years since the couple got married and still, they share unchanged passion and love for each other. In fact, Ice cube never seems to get enough of  Kimberly. If we look at his past interviews he never seizes to amaze his wife with his praise and unchanged humor towards her. Further, Ice Cube opened about having a supporting wife which has helped him throughout his career.

Caption: Kimberly Woodruff with her husband Ice  Cube on world premiere of the film Fist Fight 
Photo Source: Zimbio

Caption: Ice Cube has his own basketball league and basketball team
Photo Source: Zimbo
Well, it seems Ice Cube and Kim shares an impressive relationship as husband and wife.No wonder, they have been together for so long and there's not a single hint of divorce.
Sweet couple blessed with 5 children
Ice Cube and Kimberly Woodruff are blessed with 5 children, with three sons and two daughters; sons  O'Shea Jackson Jr.(  February 24, 1991), Darrel Jackson ( December 29, 1992), Shareef Jackson( November 27, 1995) and daughters Deja Jackson( February 17, 1994) and Karima Jackson (February 17, 1994).

Caption: Ice Cube and Kimberly Woodruff with four of their children
Photo Source:voice-online.co.uk
While it comes to children Ice Cube knows how to take care of them. His son, Oshea Jackson Jr have similar looks to Ice Cube and has shown Ice Cube isn't the only actor in the family. Oshea Jackson was praised for portraying his father in the biopic movie "Straight Outta Compton" which is American biographical movie depicting the career of gangsta rap group N.W.A.

Caption: Ice Cube(L) and his son  Oshea Jackson Jr(R)
Source: People.com
More on Kimberly Woodruff
Kimberly Woodruff was born in 1970. Unlike, her chatty husband she is more of a quiet person. Despite all the media attention she seems to keep herself personal details away from the world as she has not been vocal regarding herself.

Caption: Ice Cube on his wife and children
Having famous husband Ice Cube, Kimberly get to share his impressive net worth. Ice Cube has a staggering
net worth
of $140 M.
By: Gerrardhayley
Updated: August 21, 2017