Jacqueline MacInnes Wood is a Canadian actress, a singer and television host. She has featured in the movie Final Destination 5, starring as Olivia Castle. She has also portrayed the role of Steffy Forrester in CBS soap: The Bold and the Beautiful. The actress has won four Daytime Emmy Award nominations and recently won the Lead Actress in a series award in 2019.
The multi-talented Canadian actress Jacqueline MacInnes Wood was married to her husband Elan Ruspoli in 2018. Learn more about Jacqueline MacInnes Wood's net worth and wiki bio.
Wiki-Bio
Jacqueline MacInnes Wood was born on April 17th, 1987 in Ontario, Canada. As per her bio, Wood's Zodiac sign is Aries. Her parents are James C. Wood and Alexandra Maclnnes. She belongs to Scottish, French, and Brazilian ancestry and has Canadian citizenship. Jacqueline also has a half-sister Dani Probert.
Early Life, Education, and Career
MacInnes Wood went to Ryerson University and also the Armstrong acting studio where she took an acting class. She first appeared on television to play a part of the hair girl in a commercial advertisement of First Choice Haircutters. She then moved away at the age of 18 years and landed in Toronto to pursue her career.
In May 2008, Jacqueline started her career on an American CBS Daytime soap series, The Bold and the Beautiful where she portrayed the role of Steffy Forrester in the show. Jacqueline was nominated for an Outstanding Younger Actress, for her role as Steffy in The Bold and The Beautiful, CBS soap, at the 39th Daytime Emmy Awards of 2012.
But before that, the actress featured in her first film, Final Destination 5 where she portrayed the role of Olivia Castle. The film was a hit, and it grossed a massive amount in the American Box Office. Later in October of 2012, she also featured in an action series named Arrow.
In 2013, the actress took a break from soap opera and featured in the film, Her Husband's Betrayal. The film was based on a suspense thriller genre, and she appeared besides Shawn Roberts in the movie.
Jacqueline Woods is also a singer and a television host. She debuted in an album named After Hours which was later released in 2012. Besides that, the actress has hosted a television show called Party On in August of 2013.
Caption: Jacqueline MacInnes Wood song After Hour
Besides her professional life, Jacqueline is fond of animals, especially dogs. She supports animal rescue organizations and spreads awareness through social media about the responsibilities of a pet owner.
Jacqueline MacInnes Wood Married Life with her Husband, Elan Ruspoli
Jacqueline married her boyfriend, Elan Ruspoli, in July of 2018. The actress from the show The Bold and the Beautiful was first rumored to be in a relationship with Daren Kagasoff, back in 2009 but then she separated with her ex-boyfriend.
Later she was in an engagement with Elan Ruspoli and married him in 2018. The Bold and the Beautiful star got engaged to her fiancé in November of 2017. She posted her announcement of engagement on Instagram and stated that it was the biggest surprise of her life.
Recently, Jacqueline gave birth to her first baby boy with her husband Elan Ruspoli on 4th March 2019. They named their son to be Rise Harlen Ruspoli.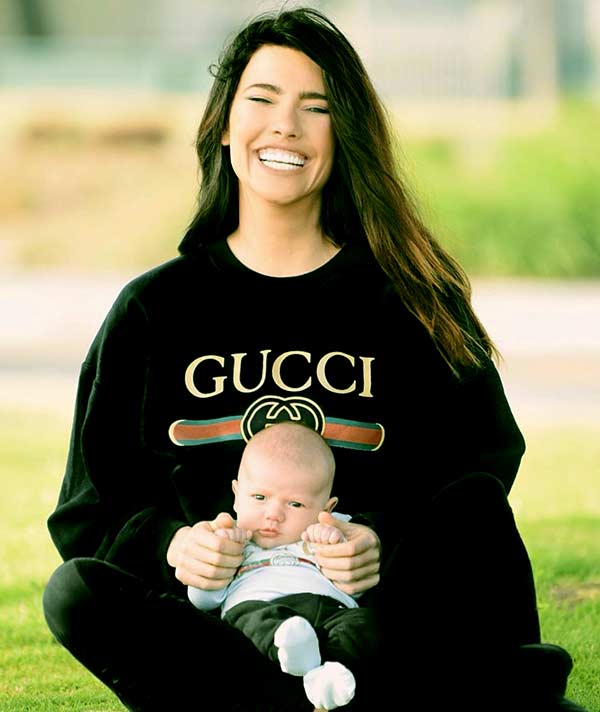 Jacqueline MacInnes Wood Net Worth
MacInnes Wood has had a successful career in television series and films. She has displayed an excellent form of talent in the shows, and her net worth can be calculated in hundreds of thousands.
Jacqueline is a singer and an occasional disc Jockey. She first released her album named After Hours in 2012. The movie that she featured in Final Destination 5 received a massive amount of $157 million at the American Box Office.
Now if you are wondering how much she's worth, then Jacqueline MacInnes Wood's net worth is estimated to be around $300 thousand in the year, 2019. She was able to gather up this good health as of her renowned talent in the series.
Quick Facts of Jacqueline MacInnes Wood
| | |
| --- | --- |
| Full Name | Jacqueline MacInnes Wood |
| Age | 32 years |
| Birthdate | April 17, 1987 |
| Birth Place | Windsor, Ontario, Canada |
| Nationality | Canadian |
| Ethnicity | French, Scottish and Brazilian |
| Profession | Actress, Singer, Disc Jockey and Television Host |
| Spouse | Elan Ruspoli |
| Net Worth | Estimated $300,000 as of 2019 |
| Height | 5 feet 8 inch |
| Weight | 54 kg |
| Marital Status | Married |
| Children | Son (Rise Harlen Ruspoli) |
| Social Media | Instagram, Twitter |