If the world is unknown about actual detail of someone's personal life then the person has to face numbers of speculation and rumors. And 'Silicon Valley' actor Josh Brener has to go through gay speculation as few were familiar with his married life and wife.
Josh Brener is happily married and settled with actress/writer wife Meghan Falcone. We will bring you all the information we have in Josh Brener married life and wife. Also, know more about this Houston born 32-years-old actor with a wiki.
Josh Brener is a blissfully married to his girlfriend
Seeing the love affair changed into marriage is always the sweetest part of the relationship. Josh Brener and Megan Falcon share a similar story. In fact, the pair met while pursuing their acting career. Josh and his wife Meghan used to perform comedies for Upright Citizens Brigade Theatre that's the place where they first met.Gradually the first meeting changed into dating affair and love. Eventually, getting married.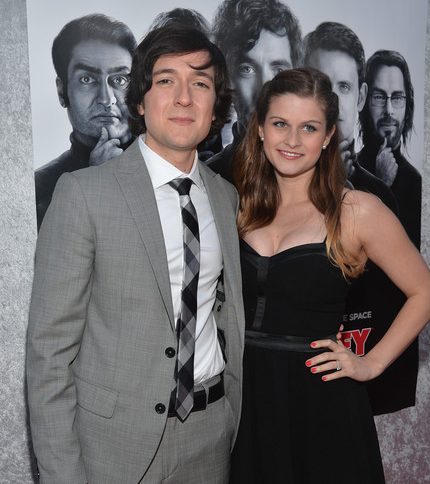 Caption: Josh Brener and his girlfriend turned wife Meghan Falcone 
Photo Source: Zimbio
Josh is undoubtedly a funny man but few are familiar with his better half who is also quite good at comedy. When Josh isn't professionally involved with acting, he engages himself with his wife and fantasy football. Josh told during an interview:
"Right now mostly fantasy football.  But in my spare time (when football's not on), I do a fair bit of writing with my wife Meghan… which is mostly an excuse for us to sit in the basement where our dogs are allowed on the furniture.  We're insane dog people."
Caption: Josh Brener and his wife at red carpet events
Though the pair hasn't been vocal about their wedding day, after going through different sources we found out they wedded in the year 2014. Since then the pair is happily married sharing an impressive relationship.
my husband says smart stuff at home, then i repeat it in front of people, and he lets me own it. i never do that, the smart stuff at home.

— Meghan Falcone (@megfalcone) May 16, 2015
Short Wiki like Bio on Josh Brener and Net Worth
Josh Brener was born on October 1, 1984, in Houston, Texas. He is born to parents Daniel Brener and Sharon Brener. He attended Harvard University, with graduating in the year of 2007. During his Harvard days, he was the president of the Hasty Pudding Theatricals.
Josh is best known for the for the role Nelson Big Head in the show Silicon Valley.  He is also known for his work in TV series 'Big Bang Theory' and movie 'Internship'. Josh Brener is a very talented person who is quite good at making other people laugh through witty talks. No wonder he is established as a comedian. As of 2017, Josh has a net worth of $1.5 Million. A person at the rising stage of career, it wouldn't be a surprise seeing his net worth grow soon.
By: Gerrardhayley