Social media has been a perfect platform to gain popularity alongside earning bucks for the living. It's like a trend these days. If you are not a camera shy and you have some skills with speech or discussion than there is a maximum chance of you being a Youtube hit. Well, meet Lizzy Wurst, 19 years of age, Youtuber, who has her charms on social media and has established herself as successful Youtuber. She has amassed 1.5 M Instagram followers and her Youtube channel has 1M subscriber and counting. Let's get more information on Lizzy Wurst like her dating affair, boyfriend, and details on her net worth.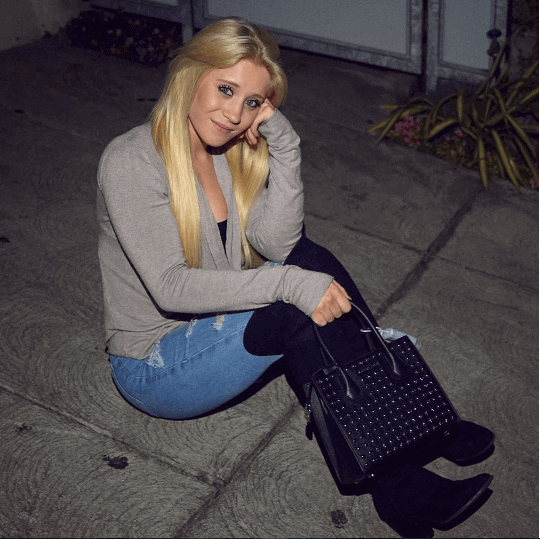 Caption: Youtuber Lizzy Wurst ready and waiting for a ride
Photo Source: Lizzy/Insta
Lizzy Wurst turning her High School crush  into dating affair and then boyfriend
Elizabeth Wurst is famous as Lizzy Wurst which is the name she uses in social media profile and youtube channel. She is an open person when it comes to her personal life and dating affair. Lizzy is now settled with her popular Youtuber boyfriend Lance Stewart,21. But, the relationship between the pair was not always like this. If we look at Lizzy's affairs, she was in love with Lance way before they actually met.In fact, Lance Stewert was her high school crush.
Though Lance noticed her during the high school day, he wasn't acquainted with Lizzy. Later the pair got familiar through Instagram when Lizzy came up with an Insta stunt. Lizzy followed and unfollowed Lance for several times which caught Lance's attention. After online chats for about two months pair finally met with each other. Since then, the pair started dating which eventually turned into a love affair as they are evident sharing their passion and affection for each other through social media and their Vlogs. A queek peek through Lizzy's Insta account:
The pair definitely holds a relationship to envy.
Wiki Like Bio on Lizzy Wurst
Lizzy Wurst was born on July 22, 1998, which makes her 19 years of age now. She is an American citizen with parents of white ethnicity. As for her sibling, she has a younger brother who occasionally appears on her youtube videos. Before she rose to fame as Youtuber she was popular in vines through her funny short clips and songs cover.Lizzy loves to sing and she has a love for name Sabrina, If she got to change her name she would definitely make it to Sabrina. When it comes to places, Lizzy wants to visit Dubai, Disney, and Hawaii.
Lizzy Wurst Net Worth
Young talented  American girl Lizzy Wurst has established herself successfully as youtube star. Her enhanced fan following and Youtube subscriber is aided by her Youtuber boyfriend Lance Stewert. Since she started her youtube channel in mid-2016 her youtube subscribers and viewers have increased significantly. As for her net worth which is totally based on earning generated from her youtube videos. After her significant rise as a youtube star, she is making lot more money than before. Lizzy Wurst has a net worth around $200K.
By: Gerrardhayley
Updated: August 18, 2017