Talented and beautiful Tika Sumpter is currently 37 years of age, it's really hard to believe that, when we look at her she looks way younger. Like any normal person, actress Tika Sumpter has her fair share of encounter with men. She has been married,  spent her time as a wife, heartbroken and again set out for a new adventure.  Well, Tika Sumpter had a husband in past and it won't be long till we see her married again. So, we have come up with all details on her personal life like her relationship, dating history, marriage and more information on her.
Caption: Tika Sumpter owns a lovely smile
Got Husband in Hosea Chanchez but end up with divorce
Well, beautiful Sumpter started dating Hosea Chanchez, as the couple start seeing more of each other, it didn't take long for couple to fall in love. Sumpter and Hosea have been private regarding their personal life so the exact initition of relationship is still unknown.  As for the rumors they met around 2005.
After staying together for long and knowing each other, Hosea and Sumpter got married in 2009 but the relation didn't work well for the the pair as they officially get divorced in 2012. The reason behind separation is still unknown.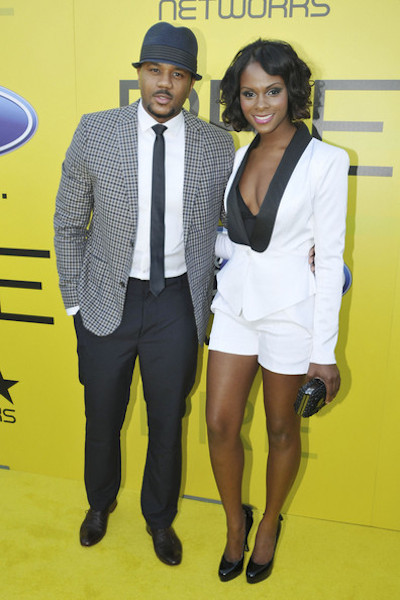 Caption: Tika Sumpter and husband Hosea Chanchez all dressed up for the events
Photo Source: Pinterest
While looking at Hose interview with essence, it clearly points they had a tough time staying apart, with duo even back together at some point.As for the interview when asked If Hosea was seeing someone, he was all smile as he answered:
"Yes. Yes I am. It's big news."
He further said the person is no other than someone from past and he has shared relationship with her,
"It's a relationship that's come back around full circle "She lives in New York City. We're just in a really good place right now. I've known her about nine years."
Despite all the hint the pair were never seen again as couple and they have moved on with life. Tika Sumpter ex-husband  Hosea Chanchez is currently single and enjoying his life with more focused in acting profession.
Future wife with blissfully engaged to boyfriend
Well, heartbreak has its toll on a person and it can be seen on Tika Sumpter life. After an end to marriage Sumpter has been notoriously private about her personal life. In fact, the world came to know that she has a boyfriend during her pregnancy when she appeared on the cover of Fit Pregnancy and Baby.
"My pregnancy wasn't planned. I found out around Valentine's Day, when my boyfriend took me on a surprise trip to San Diego."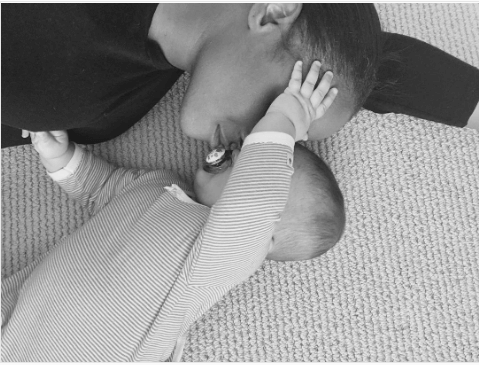 Caption: Tika Sumpter with a sneak peak of mother and her daughter Ella-Loren through Instagram
The person is no other than co-star Nicholas James from TV show Haves and have nots. When world came to know about him, Nick James was already engaged and father of their beautiful daughter Ella-Loren. As Sumpter opened about her fiancé she was all praise:
"He is amazing. I love my fiancé Nicholas so much."
Further, she opened how engagement happened which she described as just simple and awesome.
"He did all of these amazing things [Christmas morning]. I went on a little hunt in the house…And then he had a letter behind Ella and he's like, "Ella has something to say to you." And it was just this letter of beauty. And then he proposed. It was just simple and just awesome."
Caption: Tika Sumpter busted with a shiny ring which happens to be given by her fiance
Proud mother Sumpter shares snap of her fiance Nicholas and daughter Ella for the first in fathers day as she couldn't stop herself from praising Nick.
"Ella's such a lucky girl.  you are an amazing father. I could not have asked for a funnier, more present and loving partner. Thanks daddy for sending me a good one."
Photo Via Insta Post
More on Tika Sumpter
She is born in Queens of New York, USA on 1980 June 20.  Born to parents with father Arthur Curtis Sumpter, Sr. and mother Janice Acquista. She is American actress with a height of 5ft 7in. Sumpter began her career as a model and
Tika Sumpter is an established name and well-known actress in movies and  TV shows. She gained further height in her acting profession as she portrayed Mitchele Obama love interest of former president Barack Obama in movie 'Southside With You'. She is currently busy working for upcoming movie projects Acrimony(2017), The Old Man and the Gun (2018)The Pages(2018).
Sumpter has made herself quite an earning from her profession and different line of work she is involved.She has a net worth of $ 1.8 M.