Tom Brady is NFL quarterback who plays for  New England Patriots. Since making into NFL in 2000, Brady has been a football revelation; arguably the greatest player to grace the field. While players dream of Super Bowl he has five titles, also, Brady has won many individuals accolades. If we jog your memory lane, the unprecedented comeback win against Atlanta Falcons in 2017 Superbowl final will long last in NFL history, and you know who was the star man, the majestic Tom Brady.
His football career has always been the topic of discussion among broadcast as well printed media. Likewise, his personal life is followed by paparazzi and gets media attention time to time. Brady is married to Brazilian supermodel and has two kids Benjamin and Vivienne, together. Also, he has a son Jack with ex-girlfriend Bridget Moynahan.
This football star was associated with the model and actress Bridget Moynahan from 2004 to 2006. The couple enjoyed a smooth relationship in public eyes, Brady and Moynahan were spotted together on several occasion. When many thought their relationship was heading places unexpectedly the couple broke in December of 2006. Neither of the two has commented on their split however it is clear Brady's new found love with Bundchen played a big part. Brady met Gisele through a friend while romantically involved with Moynahan, shortly after he broke with her.

Caption: Tom Brady ex-girlfriend Hollywood actress Bridget Moynahan
The then Victoria Secret Angel, Gisele Bundchen immediately fell in love with Tom Brady. In an interview with Variety she told;
"The moment I saw him, he smiled, and I was like, 'That is the most beautiful, charismatic smile I've ever seen.' From the first day we met, we've never spent one day without speaking to each other."
When the couple was just two and half months together, in February 2007 Brady ex, Monahan revealed she was pregnant with more than three months of a child. The pregnancy came as a blow to the trios more like a disguised blessing. Bundchen told Vanity Fair the situation was "challenging" and at first wondered if she should leave so her boyfriend and Moynahan could get back together. Despite the challenging period the couple stayed put. Brady's  son John Edward Thomas Moynahan aka Jack was born on 22nd August 2007 at Saint John's Health Center in Santa Monica, California.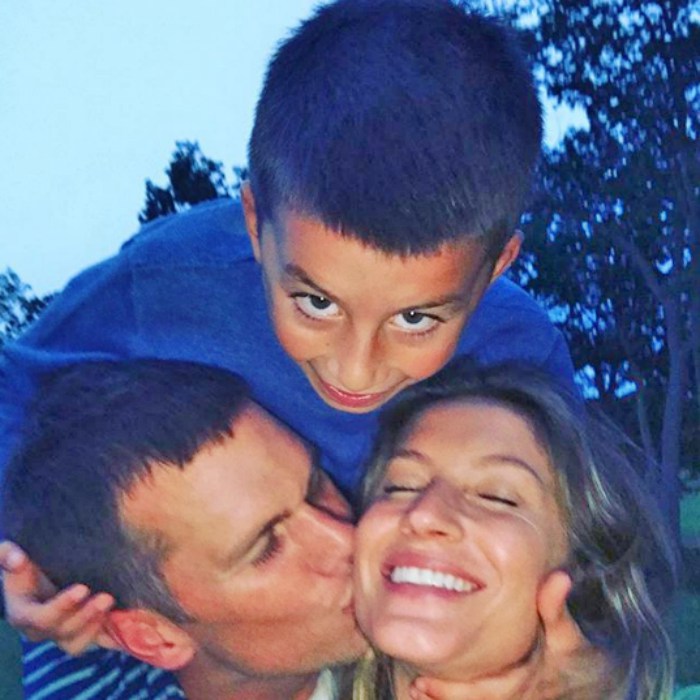 Caption: Tom Brady with wife Gisele Bundchen and his eldest son Jack
Brady's wedding, married life
After two long persistent years of relationship, Brady and Gisele got engaged in January of 2009. He proposed Brazilian supermodel with a diamond solitaire.On February 26, 2009, the couple tied the knot in a wedding ceremony at the Santa Monica Catholic Church, only 20 people of family and close friends attended.
A month and a half later the couple wedded for the second time in Costa Rica. While they chose a new place to take the vow, the wedding was no different. Like before it was super private guarded by security force with only 25 of guest attending.
The power couple is certainly enjoying every ounce of their married life, Brady often posts of his wife and kids in Instagram. The family is time to time spotted cheering or celebrating Brady during NFL games.
While the pair shows no sign of slowing down media often make stories about their divorce. Especially after Brady was accused of tampering with the 2015 A.F.C. championship game ball for which he served four-match. However, regarding divorce rumors Brady told a Boston radio station in September 2015;
"We're in a great place, I'll just say that I'm a lucky man. I've been very blessed with support from my family and certainly her (Gisele), and there's no bigger supporter that I have than her and vice versa. I've been very blessed to have an incredible relationship with my life partner, and I don't think anything will ever get in the way of that."
The couple is married for eight years now and has two children together.
Tom Brady Kids
His eldest son John Edward Thomas Moynahan aka Jack was born on 22nd August 2007 from his ex-girlfriend Bridget Moynahan. The trio's parents the kid. Tom has two kids with his wife; a son Benjamin Brady( Born  December 9, 2009) and a daughter Vivian Lake Brady ( born December 5, 2012).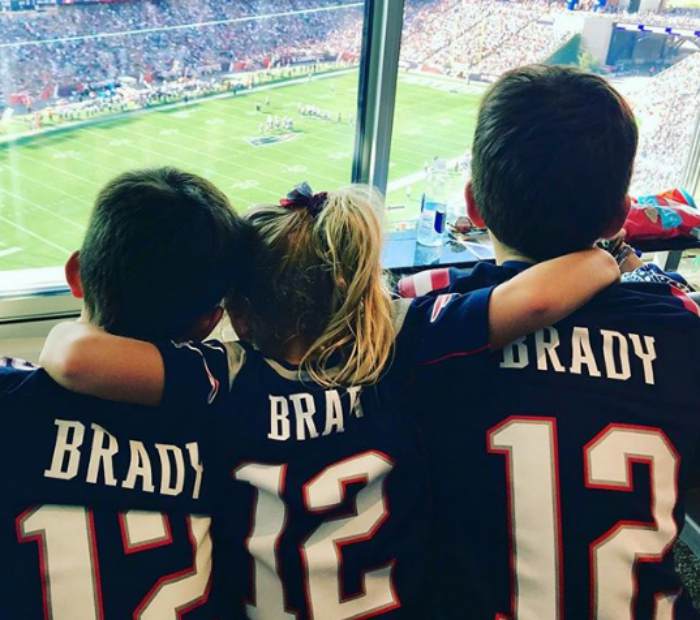 Caption: Brady Kids cheering during NFL game
Tom Brady wife Gisele Bündchen
Born on 20 July 1980, Gisele Bündchen is a Brazillian model. She became internationally a successful model in the late 90's. Gisele has been among highest earning model over the years. She was Victoria Secret Angel from 2000 until mid-2007. She has an estimated net worth of $380 M. Besides a modeling career, she has ventured in acting too. She played a supporting role in Taxi (2004). She has another supporting role in The Devil Wears Prada (2006). From 2010 to 2011, she was the executive producer of an educational environmental cartoon, Gisele & the Green Team.
Tom Brady net worth
Tom Brady has an impressive football career; he has won five super bowl title with New England Patriots, four Super Bowl MVP awards, most by any player in NFL history, he has been selected for 13 Pro Bowls and has led his team to 15 division title. His impressive display on the field is rewarded with the handsome salary cap and signing bonus over the years. He has an estimated net worth of $180M still falls behind his wife's net worth by $200M.