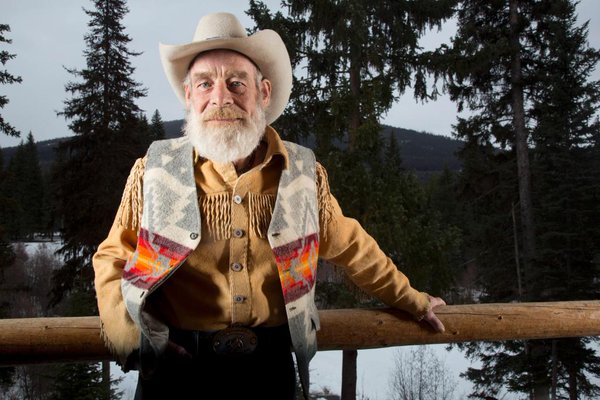 In the age when everyone is occupied by technology and modern lifestyle there are some people like Tom Oar who loves off the grid lifestyle. Tom Oar and his wife live in a remote area of Yaak Valley, Montana. Tom was a rodeo cowboy before he and his wife moved there. At that time he was 35 years and his wife was 30.
Once Rodeo star Tom Oar is now a TV personality who casts along other eight members in History channel TV series " Mountain Men". Other main casts include  Eustace Conway, Marty Meierotto, Morgan Beasley, Rich Lewis, and Jason hawk.
Well, those who regularly watch "Mountain Men" then you would be familiar with his lifestyle, however, we will bring all the information on Tom like his birthdate, age, his wife Nancy Oar, Net Worth and more in a wiki-like bio.
Tom Oar Wiki, Bio, Age
Tom Oar was born in 1943. He grew up in  Illinois, the United States which is his birthplace too. Tom's birthdate makes him 74 years of age. This white bushy beard man may be old but he still seems healthy and active and enjoying his lifestyle in remote Montana.
Tom Oar Net Worth
Tom Oar has actively earned even before he was a reality star. When Tom landed in Montana he started building a house with a chainsaw he brought from Illinois. Initially, he and his wife Nancy lived in a two-room cabin log in an acre-and-a-half of land in Montana. After five years they finished building their new house.
Tom is a modern-day trapper and he is a self-taught Tanner. He and his wife earn a significant sum from tanning hides. They create traditional buckskin moccasins, pants, shirts, and jackets. The pair sells their product at rendezvous which are get-together like 1800's fair. Tom Oar and his wife earn an estimated yearly value of around $10,000 from fur business.
Tom Oar net worth is soared after becoming a reality star. He is very liked and famous mountain men. Tom Oar net worth is estimated at over $250,000. In recent years Tom main source of income is earning from the TV series "Mountain Men".
Tom Oar Married Life with wife Nancy Oar
Tom Oar and his wife Nancy Oar are an impressive couple. They have been married for more than 50 years. The couple from Northern Illinois had a lot of adventure together before they moved to their dream place Montana.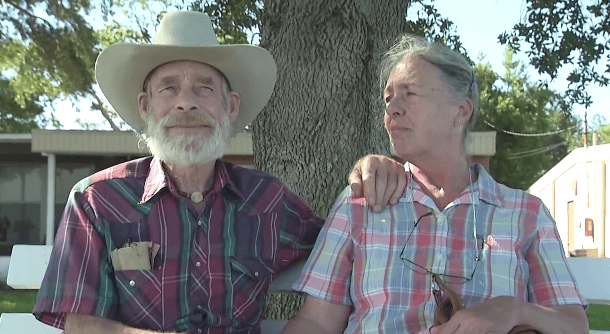 Caption: Tom Oar and his wife Nancy Oar
Photo Source: History Channel
Tom and Nancy would occasionally come to Rodeo in Troy, Montana during summer. That's when they fell in love with this place. The couple finally made their dream move 39 years ago.
The impressive duo lived without electricity and running water for the first seventeen years in Montana. The pair has lived a luxurious life before despite the fact they chose a hard way of living by nature. Tom opened about his lifestyle and why he choose to live like this;
"I guess I was born 150 or 200 years too late. I always thought of the past and history. I've kind of relived it in a modern way. I've trapped beaver in the Rocky Mountains. My rodeo career kind of put me in the past, too."
Nancy may agree most of the thing with her husband but the decision to move to this place wasn't Tom's only. Nancy herself is very much of a nature lover. They have their home by the river and mountains. The west fork of the Yaak River runs 70 feet below their property, and the Purcell Mountains are at their back. She told the scenery feeds her and Tom's soul.
The pair has children and grandchildren who live in Florida. Tom,74, and Nancy,69, are aged since they came to this place. Their loving children wants them to move to Florida but the elderly couple has no intention of leaving till they pass away. There is few or little information on his family. Tom has a brother named Jack who also appears on the series.
More on Tom Oar
Tom Oar has not made any secret that he is an old soul. Tom Oar cannot be found on any social media sites. He doesn't use Facebook, Twitter or Instagram.  As for his lifestyle, living in Montana is not an easy task. He has to face bone-chilling and brutal winters. Tom prepares himself and family from predators. Also, he secures meat for winter by hunting and collects seven to eight cords of woods to warm the winter.
By: Gerrardhayley