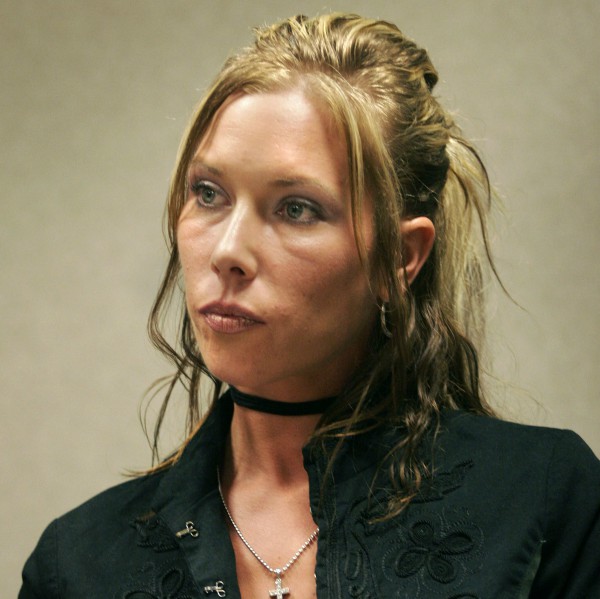 Nothing we can say about a marriage and relationship, we never know when it's going to end. Few people try their luck second time with the same person only to end up like before. How unique is this case? In this article, we are talking about Kimberly Anne Scott who married American Rapper Eminem not only once but twice, have their child and adopt two more. However, the marriage never worked and eventually, they separated.
Born in Michigan, United States, Kimberly Anne Scott is commonly known as Kim Mather is a freelance illustrator and an author. She has worked in the world of children's books, greetings cards, puzzles. To be honest, Kim has a name famous to most of us not because of her work as Illustrator or an author it is due to the fact she was married to legendary rapper, Eminem. Check out more details on this wiki like biography including her affair and relationship with Eminem.
Kimberly Anne Scott (Kim Mathers) early Life
Kimberly Anne Scott was born on  January 9, 1975, in Warren, Michigan, United States, to Kathleen Sluck and Casimer Sluck. She had a twin sister Dawn Scott who died of an apparent Heroine overdose in January of 2016. She had a troubled childhood growing up with her mother and stepfather. Kim and Dawn would offensively be treated by their alcoholic stepfather.To escape the sisters ran away and took shelter at Youth home in 1988. After some months they got out and moved in with Eminem and his mother, Debbie Nelson.

Caption: Kimberly Anne Scott and Eminem were school sweetheart
Having found new guardian on Nelson, Kim was initially silent about herself later she opened her earlier life. According to Nelson's memoir;"[Kim said she] had no idea who their real father was, and claimed to have been sexually abused by her stepfather,"  Nelson also wrote:"Now, as often happens with troubled children, Kim told some pretty tall tales….I looked on Kim as a challenge, someone I hoped I could give a better life to." Kimberly Anne Scott spent her teen years with Eminem from she was thirteen. The two shared a love-hate relationship. Let's move onto their affair beginning with how two met.
How Kimberly Anne Scott and Eminem met? Their dating affair.
The two met at their mutual friend house at a party, at the time Kimberly Anne Scott was 13 and Eminem was 15 years of age. Only that day Kim got out of youth home. When Kim entered the party, Eminem was mocking to LL Cool J's rap song "I'm Bad" while standing on the table with his shirt off and Kangol on.
Not long the two have met, Eminem brought Kim at his home. On and off relationship began to blossom between the pair and soon they became school sweetheart. At 9th grade, Eminem dropped school took up odd Jobs to support himself and his career as a rapper.

Caption: Kim and Eminem shared an on and off relationship throughout the 90's 
Kim and Eminem took up residency in the notoriously lousy neighborhood after Nelson frustratingly threw them out of the home. One time a stray bullet almost hit Kim while she was washing dishes in the kitchen, she told; "The neighborhoods we lived in f—ing sucked.I went through four TVs and five VCRs in two years." The duo continued dating throughout 90's however, their relationship wasn't smoothest in any way. It became a real challenge for both when unexpectedly Kim got pregnant in 1995. Kim gave birth to Hailie on Christmas day that year(1995).
For the sake of newborn, the two moved in with Eminem's mother; however, the stay didn't last long.Eminem did best to look after his girlfriend and newborn. He didn't want his daughter to grow up like he did, living from day to day and moving from week to week. To support the family he worked overtime as a dishwasher that would give him $5.5 an hour.
Kimberly Anne Scott(Kim Mathers) and Eminem's relationship
After the birth of Hailie, Eminem was Juggling between family and his unfulfilled musical ambition which took a toll on their relationship. Kim and Eminem would break up and reconcile time-time and again. We can say they had endless cycles of break up and patch up. One of Eminem's friend shared what was like the relationship between the couple. He said to Rollingstone:
"One time we(He and Eminem) came home and Kim had thrown all his clothes on the lawn — which was, like, two pairs of pants and some gym shoes. So we stayed at my grandmother's, and Em's (Eminem) like, 'I'm leaving her; I'm never going back.' Next day, he's back with her. The love they got is so genuine, it's ridiculous. He gonna end up marrying her. But there's always gonna be conflict there."
During one of the split, Eminem developed his ultra-violent ego and rapped in his song "97 Bonnie & Clyde," released in 1999. In the song, he rapped about Scott's murder with the help of an infant Hailie while they dispose of the body in the ocean. No matter how much they would fight or express their hatred towards each other, eventually they would get together.
Kim Mathers marriage and divorce with Eminem
Kimberly Anne Scott became Kim Mathers after she and Eminem got married on June 14, 1999. At the time rapper was reaching new heights with his career. However, his family life went on a different trajectory. Eminem hip-hop rap song "97 Bonnie and Clyde" one about murdering Kim became fans favorite. Though married, Eminem couldn't stop performing the song. He would present with a nude blow-up doll which was made to look like Kim and Kim didn't take it well. Despite some personal difference, it became too hard for Kim to handle the public humiliation due to Eminem's performance. Kim tried to Kill herself at Warren, Michigan home by slashing her wrists with razor blades in July 2000. Around the same period, Eminem witnessed Scott kissing John Guerra, a mutual acquaintance due to which he hit him with a gun and got arrested. Eminem soon filed for divorce, which was finalized in 2001.
Then Kim began seeing a man named Eric Harter and gave birth to his daughter, Whitney in 2002. However, two have a short-lived relationship. As for Eminem, he didn't have any known relationship with any women during the period.
When everyone thought the relationship between two was over, Eminem didn't wholly leave his ex-wife out of life. He sang about Kim showing love and hatred towards her. In his rap song "Crazy in Love" Eminem sang hating her so much yet not able to live without her. In the Song "Puke" from the same album depicts he hates her so much that makes him want to vomit. Surprisingly, the two got married for the second time in 2006 which lasted 41 days.
Life after divorce
After the second split, Kim Mathers battled with depression and substance abuse. In October of 2015, she crashed the pole after driving by taking pill and alcohol which she claimed a suicide attempt. Due to the stint, she was fined, attended drug and alcohol counseling, and underwent a year-long probation. Despite the difference in past, she has a warm relationship with her ex-husband Eminem while they are not romantically involved. The two co-parents their children.

Kim Mathers Children
Kim has two biological kids: Hailie Jade Mathers and Whitney Scott Mathers. She and Eminem took care of Aliana Marie Mathers from her early age because of her mother, Dawn Scott's drug problems. Eminem has sole custody of Aliana formally adopting in 2002. They co-parents all three of their children. Kim has a son named Patrick Scott, however, there is no available information besi the es name.
Wiki-Bio
Name: Kimberly Anne Scott, A.K.A Kim Mathers
Date of Birth: January 9, 1975
Birth Place: Warren, Michigan, United States
Parents: Kathleen Sluck, Casimer Sluck
Nationality: American
Ethnicity: White
Children: Hailie Jade Mathers, Alaina Marie  Mathers, Whitney Scott Mathers, Parker Scott
Siblings: Dawn Scott
Ex-husband: Marshall Bruce Mathers III(Eminem)
Husband/Partner: N/A
Profession: Illustrator and Author
By: Gerrardhayley