Susan Mikula and her lesbian partner Rachel Maddow has been an item for a long time. In fact, the pair started dating since 1999 and they are living together. Nowadays, Rachel is quite busy with her news reporting indeed she is the anchor of Rachel Maddow Show which is currently highest rated show on MSNBC. Susan is content with photography for which she uses some old camera technology. But when it comes to personal life, many are still unknown about their current status of the relationship. Are they married or still living as lovers? Find more about the pair with a bio on Susan Mikula.

Caption: Rachel Maddow(L) has got a cook in partner Susan Mikula(R)
Photo Source: Pinterest
Is Susan Mikula married to Rachel Maddow?
Susan and Rachel are a loving partner who adores and shares a passion for each other. The couple has a relationship which is firm and going on since 18 years. They first met in 1999 that's when their love story began. Everyone would like to see a long relationship ending with a happy marriage. But for this couple, they don't seem in any hurry to tie the knot. The pair shares a house in Western Massachusetts and an apartment in New York city. Despite living together under the same roof like married couple they are yet to take the wedding vow to be officially called a husband and a wife.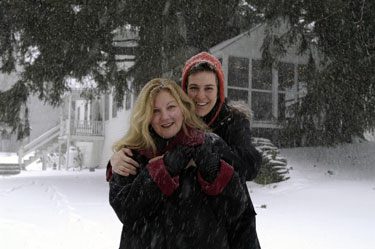 Caption: Unlike Susan, Rachel is an immense social media user
Photo Source: Maddowsfan.com
Susan and Rachel's fruitful first meeting to love affair
If you are one of those who believes love happen at the first sight then you are about to encounter such relationship. Rachel and Susan are no strangers to the fact, the pair first met when Mikula hired Maddow to dig tree stumps out of her front yard.In an interview in 2011, Rachel Maddow recalled about her first sight with her girlfriend Susan and that's when the magic happened. She said that it was love at first sight. The pair first date was at National Rifle Association which Rachel told HuffingtonPost.

Caption: Rachel and Susan are two established authors in family
Photo Source: Pinterest
After their first date, the relationship between the couple has gone stronger and stronger.In an interview, she described gay people not being able to get married for a generation. Furthermore, she indicated that she and her partner don't need a marriage to have a long and fruitful relationship. She made it quite clear with the statement:
Well, it's really hard to see the pair taking wedding vow anytime soon. Practically, these two lesbian couple may not be married but their relationship isn't any less than a husband and wife.
Wiki like Bio on Susan Mikula
Susan Mikula was born in New Jersy. After being raised in New Jersy during her childhood she had to move to a small town in New Hemisphere. Mikula hasn't shared her birthday or age. After going through different sources we found out she is currently 59 years of age. Susan has a height of 5ft 6 inches. She is of American nationality with a person of white ethnicity. There is nothing to hide on Susan's sexuality as she is a gay person with girlfriend Rachel also an openly gay person. Rachel Maddow is the first out gay student to get a Rhodes scholarship to Oxford.
As for Susan's profession, she is an artist and photographer. She loves to use the camera from old days.In fact, she loves to use her SX-70 Polaroid camera which was last manufactured in 2007. According to SFGate, she finds it hard to get Polaroid films for which she relies on the old stock from eBay or by hunting yard sales and junk stores. If you wonder what her photographs look like you can visit her official website.
Susan Mikula Net Worth
Susan hasn't been vocal or revealed anything regarding her earning or net worth. But her partner Rachel Maddow has quite an impressive earning. She earns sum about $7m per year.Rachel has a net worth of $20M.
By: Gerrardhayley
Updated: August 21, 2017