Alaska: The Last Frontier has made us familiar with most of the members of Kilcher family. And, Otto Kilcher is one of them able to make a mark among the audience. His brother Atz Kilcher is a farmer and a singer, nephew Atz Lee Kilcher is a hunter, pretty every member of Kilcher family has their own specialty. As for Otto, he is a mechanic and fixes machinery and other equipment around the Frontier Homestead.
Most of Otto's  personal life is captured by the camera and we really love seeing his lifestyle on series TLF.  His wife and children also feature in the series alongside him. Despite the recognition, Otto is well able to hide the details regarding his ex-wives. We will bring you all the information on this 65-years-old Alaskan beginning with some facts.
Wiki-Bio facts
Name: Edwin Otto Kilcher
Birthdate: 13 April 1952
Age: 65
Birthplace: Homer Alaska, United States
Parents: Yule Kilcher and Ruth Weber
Nationality: American
Spouse: Charlotte Kilcher
Children: Eivin Kilcher, Levi Kilcher, August Kilcher and Torrey (stepson)
Net Worth: $5M
Otto Kilcher early life
Otto Kilcher grew up in an unspoiled wilderness of Alaska. He was raised in a small log cabin and spent early years raising cattle, looking after the farm and helping household chores. While growing up he had a thing for tinkering, indeed mastered himself in fixing machinery and equipment at surprisingly young age. Otto continues self-sufficient life as he has maintained a herd of cows over the years, providing his family with healthy grass fed beef.
Otto Kilcher Net Worth
Otto Kilcher and his wife Charlotte Kilcher has an estimated net worth over $5M. He earns a significant amount of sum from Discovery TV series. He also operates boat transportation services. Since young days Otto was interested in Mechanics with collecting broken parts and repairing them, otherwise, converting broken into something useful. Such practice has helped him to become a fine maintenance person. His significant sum of earning comes from his maintenance job. Also, Otto is an active member of Kenai Peninsula Farm Beaureu.
Thanks to family property which makes most of Otto's net worth. Kilcher family owns 613 Acres of land in the greater Homer area. According to local records, they can lay claim to a further 207 acres in and around the city. The total value of the family's real estate holdings is approximate $3.6M in which homestead accounts just over $800,000.
Otto Kilcher Wives and Children
As for the fact, Otto Kilcher is married for the third time. He first married Olga Von Ziegesar, however, after some years of association pair got divorced. He then married Sharon Mckemie and had two children with her. This marriage also ended. Now he is married to Charlotte Irene Adamson who is a biologist. Charlotte and Otto fell in love before getting married. The couple has been together for more than more than 20 years. They have a son August Kilcher from the marriage. Otto has two sons, Levi and Eivin Kilcher from his ex-wife, Sharon Mckemie while Torrey is from Charlotte's previous husband.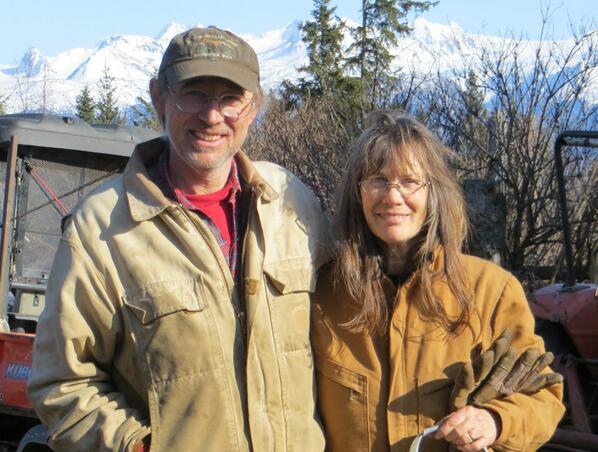 Caption: Otto Kilcher and his wife Charlotte Kilcher 
Charlotte Kilcher came to Alaska in 1978 to work as a wildlife biologist. She and Otto met during a volunteer work in South Central Alaska in 1989. After falling in love they got married and been together for more than 23 years.
Otto Kilcher family and siblings
Otto is Swedish descent American born to Yule Kilcher and Ruth Weber. His parents fled from Switzerland to Alaska during the second world war and settled with acres of land in Homer area. He is the sixth child amongst his six sisters and a brother. His brother Atz Kilcher is the oldest of them who is a musician, social worker, and a TV personality. Atz is married to Bonnie Dupree.
By: Gerrardhayley